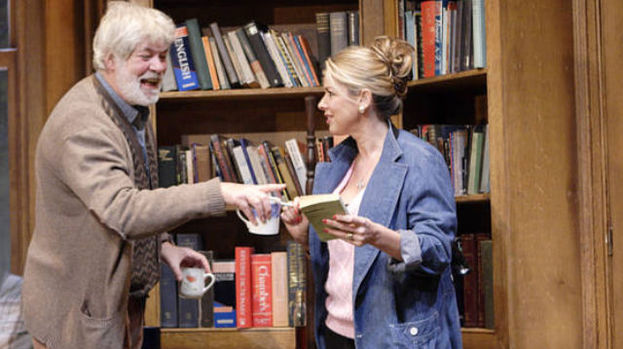 Willy Russell's cheery two hander about a hairdresser's thirst for knowledge and higher education last saw the light of day in Glasgow at the Citz back in 2009.
Jeremy Raison, whose tenure as artistic director of the theatre was decidedly hit and miss, took the helm for that production which starred Corrie stalwart James Lawson and Emma Cunliffe. And I have to confess I preferred it to Tamara Harvey's take on proceedings here in this Chocolate Factory/ Theatre Royal Bath co-production.
Which isn't to say audiences will come away disappointed. They won't. Russell's comedy about a working class hairdresser, Rita (Claire Sweeney), striving to broaden her horizons, and slake her thirst for knowledge about art and literature under the tutelage of Matthew Kelly's booze- soaked University lecturer Frank, is full of too many good lines about the importance of art, literature, life, choice, and fulfilment for that.
But just as Tom Shortall's book lined study set fails to fill the Theatre Royal stage, so too for spells does Harvey's production.
The piece feels underwhelming and lines too rushed during the first half, with no real sense of developing chemistry between the two leads. But it comes to life after the interval when Frank jealously realises that his protege is ready to stand on her own two feet without his patronage.
Clumsy, painfully slow scene changes, punctuated with some tinkling on the ivories, don't help matters, with the fade outs greeted with rounds of applause as if the show was a series of stand up sketches rather than a philosophical, comedic whole.
Sweeney makes for a fine Rita, the Liverpudlian accent of course no problem. And it's easy to buy into her quest, not so much to escape her working class roots, as to not have her choices curtailed by them. (Russell based the play on his own experience as a women's hairdresser who had missed out on a formal education and wanted to bridge that gap). And her take on Rita's transformation from a gobby, soul searching wannabe Open University student to an independent woman who knows she can hold her own in any company is entirely believable.
But Kelly lacks the desperate, down at heel manic edge Michael Caine brought to the character in the hit movie of the show, opting instead for a woolier. more doddery take on Frank.
What his performance gains in eliciting more empathy and sympathy for his character the show loses in the softening of the class politics, art v life debate, and sharp humour at its core. In fact so cosy does Kelly make Frank that it's all too easy to forget when he reaches for one more bottle that here is a self-destructive, car -crash of an alcoholic in crisis,rather than someone who just likes the odd pint now and then, and a chat down the pub about William Blake.
That said Russell's lines never fail to raise a laugh or make you think. And the end result is a solid production that succeeds in providing enough life lessons to gain it pass marks. Albeit more of a B+ than an A.
Educating Rita. Theatre Royal, Glasgow until Sat. Tel: 0844 871 7647