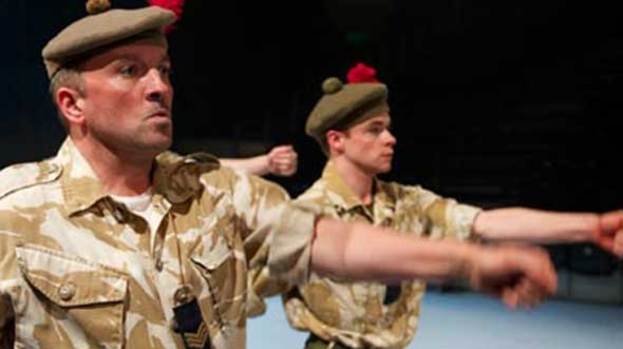 From that remarkable opening night in February 2006, ten different plays in ten different locations, none of them a conventional theatre, Vicky Featherstone set out her stall for the long-awaited National Theatre of Scotland. This was to be a theatre without walls in every sense, literal and figurative.
And by and large she has delivered on that promise, taking the NTS to every corner of the country, experimenting with form and shape, teasing at the very core of what it takes to make theatre.
I stood outside a tower block in the east end of Glasgow that freezing night watching a drama starring Billy  Boyd take place over the entire height of the building. But I have also walked through forests deep in Argyll, sailed to Hebridean islands, sat in bars and been to the circus in pursuit of the NTS. And I've also seen, in *Black Watch, *one of the top three or four theatrical experiences of a lifetime of theatre-going. That wasn't in a theatre either.
Vicky didn't direct all these; indeed, although she has rightly made it her business not to lose touch with the rehearsal room, many of the NTS's most soaring achievements, such as the remarkable *Peer Gynt *in co-production with Dundee Rep, or the wonderful *Strange Undoing of Prudencia Hart , *directed by the elusive Wils Wilson who was one of the directors on that opening night, have been those of others that she has reached out to and embraced within the NTS family.
And family is the right word; there is a collegiate atmosphere at the NTS, especially around Featherstone, her deputy, the mercurially brilliant John Tiffany, and her executive producer, Neil Murray (none of them Scots incidentally, which itself seemed to be a further declaration of openness) where Vicky... well, you wouldn't call her mother but there is no mistaking the presence of the female at the top of the hierarchy.
She leaves the organisation in fine fettle, with great plans. You might perhaps ask where the great classic triumph has been, although there have been near misses with The Bacchae and The House of Bernarda Alba. There have been star appearances - attracting Alan Cumming back from the US was a real coup - and so, in a minor key, was finding room for Iain McDiarmid's lucid adaptation of Andrew O'Hagan's book, Be Near Me, though there could have been more.
But if, in almost eight years since her original appointment, she has not done everything, that leaves room for the next generation to make it their own. The succession will be hotly contested. No-one can be in any doubt now, if they ever were before, that Scotland's theatre, as evidenced by the shortlist for this year's Critics Awards for Theare in Scotland, has much to offer the world. With writers including David Greig and D.C. Jackson at the top of their game, directors including Dominic Hill and the young pretender Jemima Levick exploring new territories, no shortage of fine actors, and other countries beating a path to the NTS's door - eager to follow the unique model that has been devised here - it is a post that the very best  will relish.
People who read this story also read