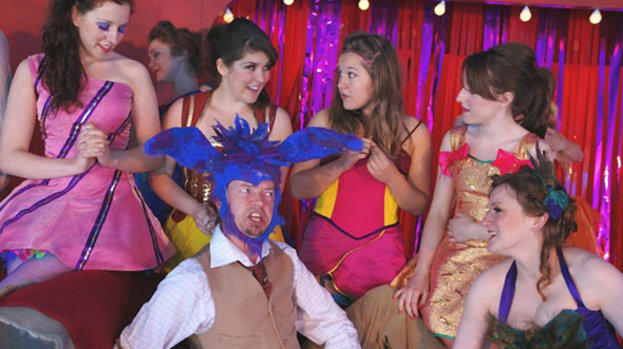 Only four theatre companies in Scotland managed more than two nominations out of a possible 40 in this year's nominations for the tenth annual Critics Awards for Theatre in Scotland (CATS). But the short lists saw five new companies nominated for the very first time.
The Citizens, Glasgow, Dundee Rep and the National Theatre of Scotland (NTS) were the big winners, confirming their position as the most nominated theatres over the last ten years. The Citizens picked up five nominations for its production of King Lear, starring David Hayman, though he himself was not singled out. Dundee Rep also scored five, all for its recent production of Zinnie Harris' Further than the Furthest Thing, the swansong of outgoing director James Brining.
The NTS picked up 12 nominations but they were spread across seven different productions. Its single most nominated show was Graham McLaren's expressionist version of A Christmas Carol, coincidentally the show which, in a different production, was the winner of the very first best overall production award in 2003.
The NTS's bold Five Minute Theatre experiment, 24 hours of short plays streamed live over the internet to celebrate its fifth birthday, was nominated for best technical presentation. You can still watch some of them here.
However, the awards also saw first time nominations for Bard in the Botanics (A Midsummer Night's Dream) , Shona Reppe puppets (The Curious Scrapbook of Josephine Bean) , Magnetic North (Pass the Spoon), Theatre Jezebel (Days of Wine and Roses) and Frozen Charlotte (Too Many Penguins, nominated as best show for children and young people).
In addition, Rachel O'Riordan, who only took over as artistic director at Perth Theatre last summer, saw her production of Frank McGuinness' Someone Who'll Watch Over Me pick up three nominations for Best Actor (for Stephen Kennedy) Best Ensemble and Best Director.
The CATS, which is run by Scotland's drama critics, celebrated their tenth anniversary by announcing a new sponsorship deal with BBC Scotland's Radio Drama department which joins a roster of blue chips sponsors including STV, Equity, the actors union, W&P Longreach and Northern Light , the specialist theatre suppliers.
The organisers also announced that they would be introducing a new occasional award, known as the CATS Whiskers, to someone or something they thought had made an exceptional contribution to theatre in Scotland.
CATS Co-convenor, Mark Fisher said: "As this is the 10th edition of the CATS awards, we felt it was time to celebrate those contributions to theatre in Scotland that go beyond the scope of our existing awards. The CATS Whiskers award is our way of giving an extra round of applause to the most remarkable achievements."
Bruce Young, Editor, Radio Drama, BBC Scotland, said: "BBC Scotland Radio Drama is delighted to support the Critics' Awards for Theatre in Scotland. We're both looking to identify and celebrate Scottish talent."
The winners of the 2012 CATS will be announced at the Tron Theatre, Glasgow, on Sunday June 10. A limited number of tickets are available to the general public. Full details of the nominations are available at www.criticsawards.theatrescotland.com





People who read this story also read