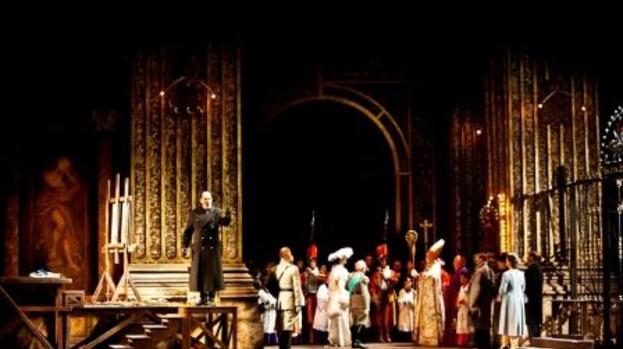 Still looking as handsome as it ever did, Puccini's Tosca fills the stage in Glasgow's Theatre Royal as if it belonged there. And since Anthony Besch's note perfect production has been around for 30 years - this is its eighth outing for Scottish Opera alone and it also resides in the repertoire of several other opera companies around the world - it pretty much does.
From the gripping opening bars, the three crashing chords of the evil police chief Scarpia set the tone musically, even though he himself does not appear until towards the end of the first act. Meanwhile, the giant columns of the church of Sant'Andrea della Valle, one of three real locations in Rome that Puccini chose specifically for the opera, soar into the darkness, doing the same thing for the visuals.
Cavaradossi, the Romantic painter, and Tosca herself, the famous singer, enjoy tender duets while she chides him that his paintng of one of the women who worship in the church mean that he has been looking at another woman too closely.
To be honest, you can tell that Tosca would be pretty hard work at the best of times - but then she is an artiste and they are never easy. And she needs to have a mind of her own for what is coming.
It's not really untl the black shirted secret police arrive, on the trail of an escaped political prisoner, that the setting in the Rome of the fascists in 1940, as opposed to the Rome of 1800 when Puccini set it, begins to take hold. Scarpia doesn't actually have a moustache to twirl but you sense that if he did, he would and he leers at Tosca with an alarming appetite. And as the curtain falls, an aggressive, uniformed figure with a shining bald head appears among the throng of police. Il Duce himself is on hand.
Robert Poulton as Scarpia relishes the role. His seduction of Tosca in Act Two is determined and brutal. Puccini, or at least the writer of the play on which the story is based, Victorien Sardou, knew that it is much harder to resist torture inflicted on someone you live than on yourself.
But Tosca is not to be easily seduced; you practically cheer as she rams the knife into Scarpia's guts but only after you have practically wept at Susannah Glanville's rendition of Tosca's famous Vissi d'arte aria, in which she contemplates what has brought her to this pretty pass.
With rousing playing in the pit under Francesco Corti, the anguish rarely relents and Tosca's final plunge from the battlements seals the deal. Poulton got a few boos when he came to take his curtain call, not for his singing, which was terrific, but because he was the baddie. For this opera, at least, is really posh people's panto, and a thundering good night out it is too. Glamorous heroines, strutting villians, lovelorn swains, tunes to break your heart; what's not to like?
Tosca, Theatre Royal Glasgow and touring to Inverness, Edinburgh and Aberdeen.
More on this: