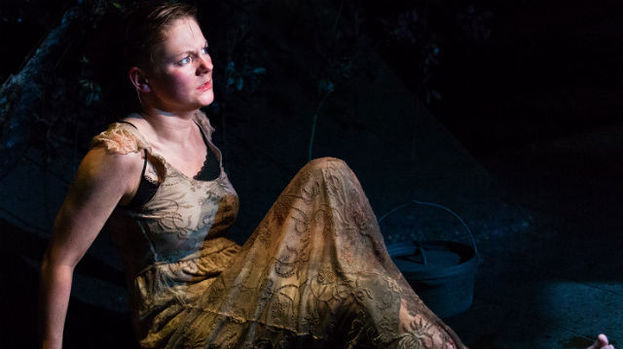 Most theatre shows, even comedies, rely on varying degrees of light and shade to fuel the drama. Not so Roman Bridge.
Staged here as part of the National Theatre of Scotland's Reveal season of new work by up and coming and diversifying artists, Martin Travers' drama starts off bleak, and then keeps getting darker, with little respite in between.
Both acts are set in real time, in a Scotland it is difficult to date. (New York has the Statue of Liberty, and America foreign slaves, but while much of the Lanarkshire Scots idiom used throughout has an archaic tinge to it, the setting could be an apocalyptic Scotland set in the future.) It's a grim, unrelenting piece, pitched somewhere between the primal primitiveness of David Harrower's Knives in Hens and Russell Hoban's Riddley Walker in tone.
Infanticide, poverty, pestilence, starvation, desolation, desperation, murder and charred plague ridden corpses – all are present here. And that's just the first Act.
In it, Myra McFadyen's old crone Craw, an abortionist and whore, brings the recently widowed Catherine MacNeil (Helen Mallon) and her young baby, to an ancient stone bridge.
Here she hopes to marry Catherine off to her son, Andra, that she abandoned years ago. But both Craw and the baby have blood in their spit from "the cough", the consequences of which see Catherine forced to make some desperate choices if she is to survive in a cold and unforgiving world which so far has brought her nothing but ill, despite her dreams of home and being a lady.
Meanwhile Andra (John Kielty) and his friend Robert John (Ryan Fletcher), when not fishing for eels for food, make the bridge their safe haven from carriers of the plague around them by burning victims of the cough when they need to.
Having made her desperate marriage of convenience to the God fearing toll-keeper Andra, for whom the Bridge is home and the centre of the Universe, and an uneasy truce over the death of her baby with his wanderlust- filled friend, Robert John, it begins to look like Catherine may have found some peace and solace in this world after all.
But appearances can be deceptive. and when the love-struck Robert John arrives back with two tickets for America and finds himself rebuffed, he takes his revenge with shattering effect as unspoken truths and secrets are revealed.
Played out against Neil Haynes' superb set, a dank, dark stone bridge underpass that cuts the Citz Circle Studio diagonally in half, with a stagnant pool carved out of the floorboards, the show is admittedly a slow burn. And it doesn't take a genius to work out that in in this uneasy ménage a trois dark secrets, as well as blood, are going to end up spilled by play's end.
But the rhythm of the piece really comes into its own in the second Act, as you find yourself gripped by which way the fates will fall for three characters who have all been dealt a bum hand in life. Director Amanda Gaughan seems very much at home with apocalyptic thrillers, Roman Bridge sharing the same sense of eerie claustrophobia as Dennis Kelly's After The End, which she directed at the Citz last year.
The three strong cast also turn in excellent performances, Fletcher in particular as the devilish Robert John in as fine form as I've ever seen him, in what is an edgy, atmospheric tale about sacrifice and survival.
Roman Bridge, Citizens Theatre, until May 12.. Tel: 0141 429 0092