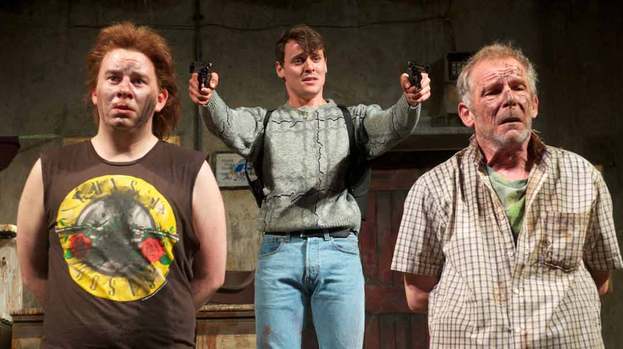 Should we be able to laugh at a half-naked man, upside down, hanging by his feet, covered in his own blood, pleading for his life from his torturer who, open razor in hand, is offering him the choice of whether he should have his right or left nipple sliced off next?
If your answer is yes, you will probably enjoy Martin McDonagh's The Lieutenant of Inishmore. With its setting on the remote Arran islands off the west coast of Ireland, and its dead cats, multiple murders, mullets and mutilation, this is where Father Ted meets Pulp Fiction.
If larky jokes about whether the Irish National Liberation Army or the Provisional IRA, both of whom really did murder and mutilate thousands of people, is better at making bombs leave you feeling queasy, or you're just a cat lover who cannot handle moggies being mashed up, you might prefer to stay away.
Either way, there's no denying that Mark Thomson's lustily gory production does a first class job on McDonagh's craftily constructed boot-black comedy. It is not just the comic book violence or the send up of the extremes of nationalist terrorism that get the treatment. It also manages to poke fun at the very Irishness of not just his own plays (remember McDonagh grew up in London) but every classic of Irish theatre from J.M.Synge to Brian Friel. Colin Richmond's sets could come from almost any of them.
The razor-wielding psychopath is Padraic (Peter Campion), rejected by the IRA for being too deranged and now splintering off the INLA too. His only friend in the world is Thomas, his cat, left behind in the care of his father , Donny (Christopher Fairbank, on terrific deadpan form). When Wee Thomas is found dead in the road by local lummox Davey (Rory Murphy, also excellent), Padraic returns home ready to shoot everyone, including his father, for their failure to look after Thomas.
But an INLA hit squad, anxious to impose discipline on Padraic's maverick activities, not to mention Davey's ambitious wee sister Mairead (Rose O'Loughlin, feisty and pert) are all on his tail. McDonagh is shameless at leading you into what looks like a plot cul de sac before a phone call or a knock on the door at the very last moment ushers in another spiral of mayhem.
Thomson orchestrates the mayhem with the same dexterity as he brought to the updated Marriage of Figaro at this same address only last month. The Lyceum's technical team has stepped up to the plate as well, with splendid explosions of blood and body parts everywhere.
But for all the grand guignol, it's really the classic comedy teams across the show that get the laughs. Donny and Davey are an unlikely Odd Couple. The INLA hit squad might as well be the Three Stooges. Meanwhile, Padraic and Mairead aspire to being a kind of Natural Born Killers but end up falling out over their cats. Bloody good fun, even if occasionally the laughter feels a touch uneasy.
The Lieutenant of Inishmore, Royal Lyceum, Edinburgh. Until May 12