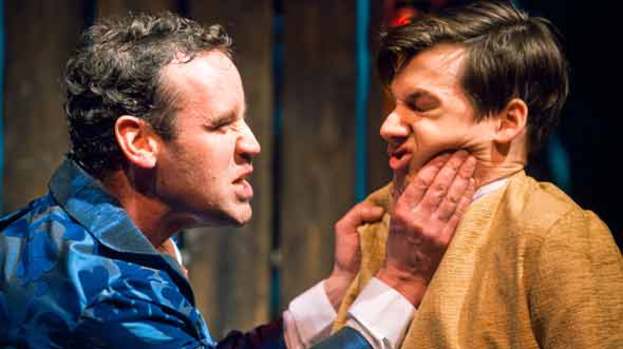 There should be some sort of special prize – a Quixote, perhaps? – for improbable stage adaptations of literary classics. The 39 Steps for four actors? Nicholas Nickleby in eight hours? The Odyssey as a solo piece?

All these and more have found eager audiences (Patrick Barlow's version of John Buchan's 39 Steps is in this summer's season at Pitlochry as it happens). And while Ed Robson's nippy new touring version for his Cumbernauld Theatre of Robert Louis Stevenson's much loved adventure story Kidnapped - shipwrecks, redcoats and Rannoch Moor with just three actors and a projection screen - is not quite on the same scale as some of these, it promises similar popular success on its forthcoming nationwide tour of village halls and local arts centres.

Robson will certainly further enhance his growing reputation as a clever director on the most modest of resources. He has even altered the orientation of the tricky Cumbernauld thrust stage for this, closing off half the auditorium.
Inventive staging, using not much more than a couple of stools and some planking, a telling soundtrack, moody lighting, some effective black and white paintings by Imogen Toner projected onto the screen (especially good for the ghastly House of Shaws) and some nicely anachronistic touches in the breathless TV news reports which track the flight of Alan Breck and Davey Balfour across that moor, are all part of the mix.

The three performers enter into the fleet-of-foot spirit of the thing with tremendous vigour but also with no little subtlety. Scott Hoatson as Davey, in pursuit of his rightful inheritance but kidnapped and on his way to the colonies at the behest of his evil Uncle Ebeneezer, is naive but feisty. Peter Callaghan as the Jacobite hero Alan Breck he encounters, is courageous and proud but also something of a blowhard.
Veteran Alan Steele, as just about everybody else, manages a splendidly sly and misanthropic Ebeneezer but also a convincingly threatening cameo as Colin Campbell, the Red Fox, who is shot dead in the infamous Appin murder, one of several points where Stevenson entwines his story with real events.

Robson, too, is clearly keen to make this story more than just a ripping yarn. He dwells deliberately, almost too long, on the moment where Davey witnesses the emigrant ship loading at Kinlochaline after his escape from the shipwreck on Mull. The boatmen (Steele and Callaghan again) quietly sing the old lament Lochaber No More (the Proclaimers' use of the phrase in their song Letter from America was something of an homage) to bring home at least one grim consequence of the aftermath of the '45.

Nor does he shrink from the underlying politics of the period, retaining passages where Breck condemns Davey's "Whiggery" while at the same time longing for a Scotland that is one nation, not divided, as at Culloden, between Highland and Lowland.

It all makes for a lively and engaging evening as well as a worthwhile response to one of the very best stories in the Scottish canon.

Kidnapped: touring Scotland until May 26. http://www.kidnapped.cumbernauldtheatre.co.uk/