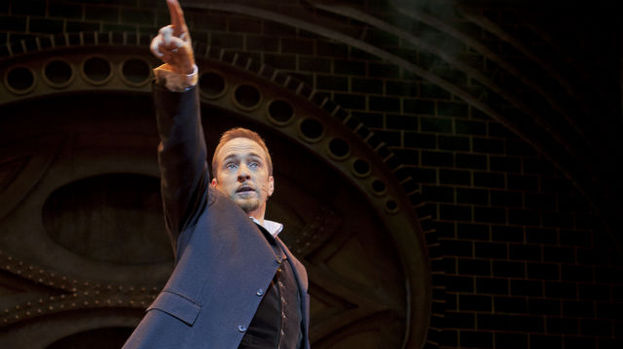 Going along to review a Derren Brown show is a curious affair. But then the mind-over-matter, maestro of psychological trickery, is a curious chap.
Although that hasn't stopped the bamboozling brainiac becoming one of British TV's biggest stars, with hit shows such as Mind Control; Trick of the Mind; Trick or Treat, and a series of specials including controversial Russian Roulette. Not to mention a series of successful stage tours.
For one thing, no clues are available as to the content of the current Olivier award-winning Svengali other than the title.
Also, the audience themselves are asked to undertake a vow of omerta on the night as to what they will see in order not to spoil the show others. So too are critics. Which makes reviewing his show almost mission impossible. But then making the seemingly impossible possible is exactly what Brown does best. So here goes.
First off, it's probably best just to cut to the chase and get the superlatives over and done with. Mind blowing; baffling; stupefying; puzzling; downright impossible, and frankly, more than a little supernaturally spooky. All these, and more boxes, are ticked off on the night under the heading: "How on earth does he do that?"
I'd be tempted to use the cliché that Brown's new show does exactly what it says on the tin. But then I'd be worried I'd end up with a tin addressed to me containing all of my as yet unwritten reviews for the next month. He really is that good.
Throughout Svengali, which takes its title from the automaton prop that takes centre stage second half, complete with historical backstory, I stroked my chin so much during the evening trying to work out how he did, what he did, that I reckon I won't need to shave for a week.
Then there's the man himself: a cheery, likeable, slightly eccentric, goateed cross between David Blaine, Paul McKenna, PT Barnum and Sherlock Holmes who I've always thought would make a great Doctor Who.
Illusion, psychology, misdirection and suggestion are the tricks of Brown's trade. But he's still got the DNA of a showman and indulges it with gusto in Svengali, which offers up light and shade in equal measure. On stage Brown has an easy comic touch that doesn't necessarily shine through on TV.
So are there any clues about the show that can safely be divulged without giving the game away too much? Mind games, after all, it should be remembered, are what Brown likes to play, no matter how paranormal his shows can seem at times.
Well, as you'd expect, there is plenty of "ooh" and "aah"melodramatic moments, and audience participation, both big and small-some of it cringingly embarrassing for those involved. There is also of course close camera work, as well as a touch of clairvoyancy and occultism. Paintball, too, also gets an unlikely look in. All of it wrapped in conundrums of mystification, and unbelievable number crunching you'll be trying to work out long after the show's end.
1970s American TV comedy series Soap, used to run a summary recap declaring: "Confused? You won't be? The diametric opposite is true in Svengali.. But in the most thoroughly entrancing, and entertaining way.
Derren Brown: Svengali, SECC, until Sat. Tel: 0844 395 4000