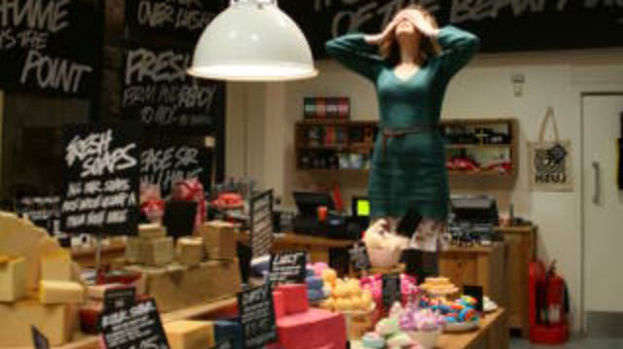 This year, Behaviour, the Arches festival of live performance theatre, has expanded its wings out of the subterranean venue to include performances across the city.
Yet while Stef Smith's site-specific show about mothers and daughters, and possible impending eco disaster, may take place amid the fragrant feast of bath and body products to be found in Lush, The Silence of Bees is no cosmetic soap opera. Although smell as a memory trigger does plays a Proustian part in the production.
Written and directed by Smith it's a moving and thought provoking tale of three generations of women beekeepers- Ginny (Joanna Tope); her daughter Joan (Lesley Hart), and last in the family line, Joan's daughter Katie (Kirsty Stuart).
One filled with apiary and natural word metaphors and allusions (Queen bees; work ethic; pollination; survival of the fittest; living in darkness), as well as a lesson in eco politics that brings to mind Rachel Carson's environmental classic Silent Spring.
In Silent Spring Carson railed against the danger to the eco-system and food chain posed by the use of pesticides.
Smith, whose 2010 Fringe hit, about sex-trafficking, RoadKill, earned her rave reviews and a 2012 Olivier Award nomination, here trains her eye on a similarly pressing ecological concern: this time the possible cataclysmic depletion of the honey bee from colony collapse disorder ( a third of the world's food is pollinated by bees). Albeit by way of a multi-layered family drama.
So flitting back and forth in time, we learn that Ginny was the young rebel who started the family beekeeping business out of a sense of adventure in the 1940s. It was then passed on to workaholic businesswoman Joan, before being left in the hands of lonely 30-something singleton Katie.
What was once an all- consuming passion for the family however, has now become a debt -ridden burden due to the death of millions of bees in the family hives: a crisis brought about by Joan's belief in pesticides to aid production rather than leaving nature to do its work.
But is the silence of the bees any less deafening than the silences and "unspoken words" that have plagued the family throughout their lives.?
"There are no heroines in this story, " says Katie. Instead what we have here are women contending with their failings and regrets, each of whom has had tough choices to make in their lives ,resulting in losses that they can't let go of.
For Ginny,it's the family secret she kept to the grave. For Joan the half -life she seems to have always lived- be it as a surviving twin, or a long distance marriage. And for Katie, resentment at not being able to walk away but plough on like a worker bee, despite all around crumbling.
Admittedly the piece, (which plays twice nightly), feels like a radio play. And given the topic, a delicatessen or food store would make more sense, in-situ, than Lush.
But Smith's script is as intricately and expertly constructed as a honeycomb; the three-strong cast turn in excellent performances; and the eco politics on show come across as organic to the play rather than shoehorned in. Definitely one to make a beeline for.
The Silence of Bees, Lush, Sauchiehall Street, Glasgow, until Saturday. Tel 0141