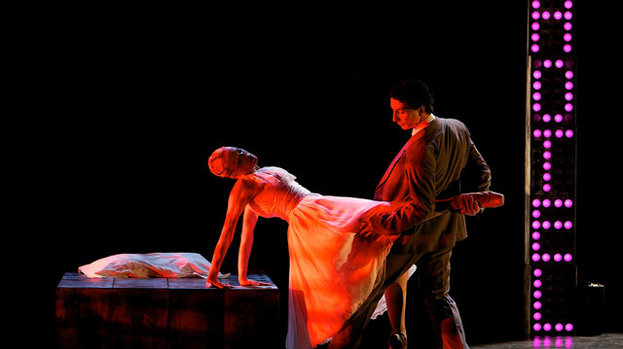 Dark, dangerous and seductive aren't words normally associated with the ballet, but they perfectly sum up Scottish Ballet's production of* A Streetcar Named Desire*.
Audiences packed into Glasgow's Theatre Royal for the opening night of the company's take on the Tennessee Williams' classic, marking the 65th anniversary year of the Pulitzer Prize-winning play.
The show was simply gripping from start to finish, taking the audience on the harrowing journey of Blanche DuBois' life beautifully, through a combination of dance, dramatic scenery and a score which matched the mood of the piece to perfection.
Eve Mutso stole the show as the tragic lead, embodying the fragile moth-like creature of Williams' vision with subtlety and skill that was nothing short of captivating.
Sophie Martin, as Stella Kowalski, Blanche's sister, was also striking, as she depicted the part of a woman trapped in a passionate but volatile relationship.
Victor Zarallo, as Blanche's husband, shone when portraying the character's struggle with his sexuality, torn between the devotion to his wife and his love for another man.
Tama Barry was enthralling as the aggressive Stanley Kowalski, particularly during the harrowing rape scene, which marks the final nail in the coffin for Blanche - a woman already on the edge of despair.
Tormented by the suicide of her young husband, which led to her heavy reliance on alcohol and promiscuity and the unravelling of her now desperate life, the show ended with the dramatic scene where Blanche was committed to a mental hospital.
The haunting final moments were perfectly portrayed, with the company of dancers dressed in black, while Blanche and her first love appeared in stark contrast in white, as the lights dimmed on the tragic tale.
Gritty and at times shocking, whilst still maintaining the beauty and subtlety one expects from the ballet, A Streetcar Named Desire is a must-see for regular theatre goers and newcomers alike.
Reviewed by Gillian Harvey and Laura Boyd