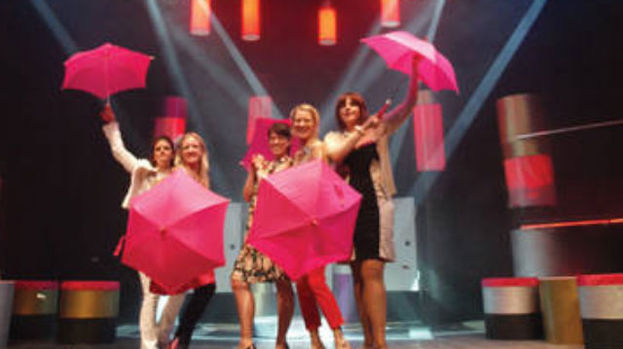 Fun night out theatre shows aimed squarely at a female audience have proved increasingly popular with producers who recognise their coach party, girls night out, money spinning potential.
Women on the Verge of HRT; The Vagina Monologues ; Mum's the Word, and The Naked Truth, are just some of the female friendly shows that have coined it in down the years.
Cementing its place among this canon, having played to packed theatres in the UK and the US, is Louise Roche's girlie musical comedy, Girl's Night, which features a string of karaoke classics including I Will Survive; Young Hearts Run Free; I'm Every Woman, andWe Are Family.
It stars Gillian Taylforth, (Eastenders; The Bill),who is appearing on stage for the first time alongside her real life sister, Kim, (London's Burning; Bad Girls), with Kerry Enright, Rebecca Wheatley and Lizzie Frances making up the rest of the all-female cast.
The show revolves around four female friends who have gathered together in a nightclub to celebrate the engagement of Candi- Rose, the daughter of another friend, Sharon, who died 22 years ago, aged 17, in a moped accident.
What the "girls" don't know, however, is that they are not alone. The deceased Sharon, dressed in jeans and angel wings, has decided to come along to oversee proceedings. At the same time she serves as (invisible) narrator to set the scene for the various flashbacks in time that make up what is a paper thin plot that could have been written on the back of a cloakroom ticket.
As the booze, karaoke anthems, and remembrances of things past start to flow, sex ,marriage, men, motherhood, sisterhood, et al are put under the microscope as each character reveals their insecurities and hidden emotional baggage, or has them revealed for them.
Roche describes the show as about women "who have lived, loved and lost, but still know how to have a good time." And there's no denying an enthusiastic crowd bought into the by-numbers, archetypal cross section of sisterhood on show on the night.
So Carol, (Gillian Taylforth), is a twice married, single party girl who has her regrets; her sister Kate (her sister Kim) a prissy school teacher, who spends the night getting hammered having found out a family secret; Enright's Liza, brash but wounded, and Anita ( a smashing comic turn from Wheatley) a pill popping, big hearted, weak link who is actually a rock-albeit a slightly neurotic one.
It's entertaining enough fare in its own way. If hardly a stretch, and paper thin. But without the karaoke anthems that punctuate the show throughout, (not all of them that well delivered it has to be said, Gillian Taylforth's singing in particular leaving a lot to be desired), it would be seriously in need of more character development. Actually even with them it could still do with plenty more.
But the crowd were dancing in the aisles by the end. Which for a show of this type is proof enough that it has succeeded in doing exactly what it says on the tin.
Girl's Night, King's Theatre, Glasgow, until Sat. Tel: 0844 871 7648