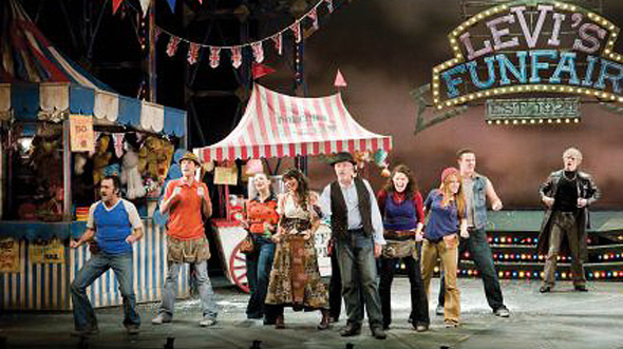 While he may still be seen on screen at the moment as Eddie Moon in EastEnders, David Essex has officially left the show to explore pastures new, including this re-vamped touring production of funfair musical, All the Fun of the Fair.
1970s pop heartthrob Essex was instrumental in the show's creation, and you can see the logic in swapping Walford for treading the boards while he's on the crest of a wave.
A fusion of the show's London West End run, and previous touring productions, for this latest reincarnation the twinkle eyed sixty-something can now rely on not only the loyal fanbase that initially turned out in their droves when he played the part before, but factor in the double whammy of a whole new audience who only know him from EastEnders. The result is sure to be more than healthy houses for the show's run.
A jukebox musical drawing on Essex's back catalogue, with a book by Boogie Nights creator Jon Conway,the plot focuses on travelling funfair owner, recently widowed Levi Lee (Essex), who is trying to stop the family business from going under. At the same he's time trying to keep a tight leash on his teen rebel son, Jack, who ends up sparking a feud after becoming involved with a dodgy businessman's daughter.
Louise English plays Levi's fortune-teller love interes Rosa, here, with a heart-on-her sleeve lovestruck warmth, while a lively and engaging Ross Compton steps up to the plate as old chip-off-the block Jack ("the lad").
But there's no doubting it's Essex the audience has come to see.. No musical theatre novice, having cut his teeth on the original London productions of Godspell and Evita, he doesn't disappoint, turning in a suitably understated performance that suggests playing Eddie Moon wasn't that much of a stretch for him.
Sure the hair is a little greyer than it was back in his heyday. (Okay a lot greyer).At one point a reference to Levi's youthful curly dark locks is milked for the tongue-in-cheek laugh it duly gets. But while Essex's voice has a cracked, gravelly feel to these days,it suits the seedy glamour of the funfair staging.
Of course, no jukebox musical would be worth its salt without some nostalgic musical numbers the audience know off by heart. And while All the Fun of the Fair features a raft of Essex's hits from across his career-Silver Dream Machine, Hold Me Close, Winter's Tale, Rock On, and Gonna Make You a Star-it's not the vanity project you might expect, with the songs spread out across the ensemble cast. Which is just as well, as the other tunes peppered throughout- all female duet He Noticed Me and ensemble number Here We Are All Together aside- are pretty average.
While it's no Mamma Mia!, there's still plenty of fun to be had here (dodgems zig- zagging around on stage; some nice comedic moments) as well as a darker side side to the story that ensures the ending is far from sugar- coated, and delivers just the right amount of light and shade to hold the audience's attention between numbers..
Fans of My Big Fat Gypsy Wedding will also be able to recognise the all too plausible hornet's nest, of townie and "pikey" prejudice Jack's decision to pursue romance outside the travelling community brings upon the funfair family's head.
Watch out too for an exciting finale, which sees Jack riding his own particular silver dream machine ( a rousing final number to end on), as he seemingly rides full throttle over the audience's head.
But for all that, it's the ageing pop star and actor centre stage the audience reserve their loudest applause for. Which just goes to show that, as far as all the fun of the fair is concerned here, it really is a case of the only way is Essex.
All the Fun of the Fair, Edinburgh Playhouse until Sat Oct 8. Tel: 0844 871 3014