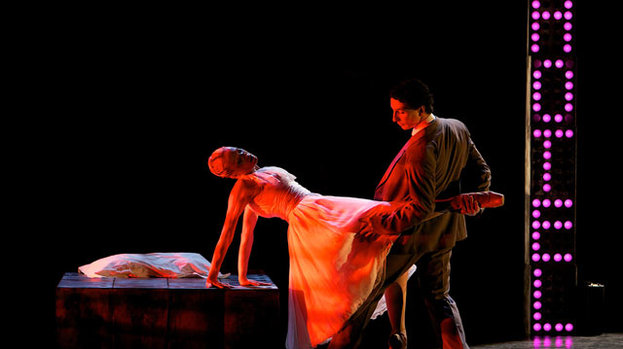 Scottish Ballet's production of A Streetcar Named Desire has been awarded a South Bank Sky Arts Award.
A Streetcar Named Desire Choreographer Annabelle Lopez Ochoa, Director Nancy Meckler, Scottish Ballet dancers Eve Mutso and Tama Barry, who performed the roles of Blanche and Stanley respectively, and the company's Artistic Director Christopher Hampson attended the glittering awards ceremony at The Dorchester hotel in London today, and they were thrilled to be recognised at the prestigious event.
Dark, dangerous and seductive aren't words normally associated with ballet, but that's how STV's showbiz reporters Laura Boyd and Gill Harvey summed up the production when they saw it at the Theatre Royal in Glasgow last April.
"Gritty and at times shocking, whilst still maintaining the beauty and subtlety one expects from the ballet, A Streetcar Named Desire is a must-see for regular theatre goers and newcomers alike," the girls wrote.
And it seems they were not alone in their views as Streetcar also took the award for Best Choreography (Classical) at the National Dance Awards.
The South Bank Sky Arts Awards will be shown on Sky Arts 1 HD on Thursday 14 March at 9.30pm.
Read our review of A Streetcar Named Desire.
Related articles