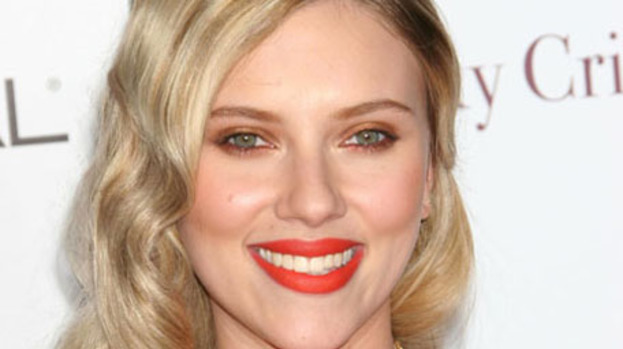 As one of Hollywood's most desirable women, it makes perfect sense that Scarlett Johansson would make her return to the Broadway stage as the seductive Maggie in a new production of Cat on a Hot Tin Roof.
The actress, who won a Tony Award in 2010 for her critically-acclaimed role in A View from the Bridge, will step into the shoes of the late Elizabeth Taylor as she portrays the beautiful and determined Maggie in Tennessee Williams' Pulitzer Prize-winning play.
It seems the 28-year-old has already embodied the aura of her sultry new character in the black-and-white poster for the production, which sees Scarlett lying on her side, staring straight down the camera lens as she seductively loosens the ties of her sexy silk slip.
Speaking about the iconic character to the Huffington Post, the Lost In Translation star explained: "I think [Maggie's] sexuality is often overplayed and over-appreciated. It's such an unimportant part of this story."
Contrary to the alluring poster, she adds: "I mean, it comes with the circumstance, of course, and the setting and the words – that's already there. There's no need to drape yourself all over the stage and roll around in a satin sheet."
Scarlett's latest theatrical role is of a different ilk to that of her role as the pure and innocent Catherine in Arthur Miller's A View from the Bridge.
In an interview with the New York Times, the actress admitted she was surprised to be returning to Broadway, explaining: "I never thought I would do another play after View.
"I was just so tired. I thought I was just going to become an organic farmer."
Following her divorce from fellow actor Ryan Reynolds (and his subsequent marriage to Gossip Girl star Blake Lively), Scarlett has opened up about her career choices and doing what makes her happy.
She added: "I felt extreme vulnerability over the last few years, more than I ever had, and no longer wanted to keep rushing into movie jobs or a play just to escape how I was feeling.
"Once I wanted to work again, I wanted to start playing adults — tough women who knew what it took to survive.
"I feel like I've been transitioning from young woman into womanhood for a very long time. Now, as I approach 30, with the last few years behind me, I feel like growing pains are behind me. It's just nice to feel happy."
Cat on a Hot Tin Roof, which is currently in previews, officially opens at the Richard Rodgers Theatre in New York on January 17.
Related articles