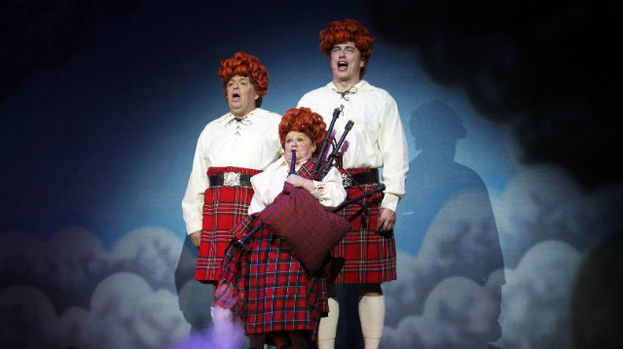 This year's panto at the SECC makes great play of the fact that it boasts some spectacular 3D effects. It does, it does; but without the considerable talents of its stars, John Barrowman and The Krankies, the show would be nothing.
Reunited here at the SECC for the third year running they make sure the production goes with a bang and sends audiences home happy.
Barrowman plays the hero, Jack Trot, with Jimmy Krankie (Janette Tough) as his wee brother and Ian Tough as their father, Farmer Trot.
Set in the village of Inverweegie, the show is a straightforward, merry mix of old school variety comic skits, slapstick, well-delivered musical numbers, and, as mentioned, those impressive 3-D special effects and animation.
Barrowman seems to revel in letting his hair down here, entering into proceedings with infectious enthusiasm and plenty of self-deprecating, tongue-in-cheek jokes at his gay icon status.
He also displays a fine Scottish brogue and kilt, paying homage to his roots.
Heck, he's so lantern-jawed likeable, and charming, he even befriends a real horse on stage, brought on for a quick circus trick cameo. The inference being, I suppose, that anything the King's can do with Shetland ponies, the SECC can do better or, at least, bigger.
The Krankies, meanwhile, go about their comedy business like the old pros they are, demonstrating just why they were awarded a Lifetime Achievement Award at the Great Scot awards' earlier this year. Any fears that Janette might falter, especially during her scaling of the beanstalk, following the head injuries she sustained in a fall from the beanstalk at the Pavilion in 2004, proved unfounded, with her cheeky schoolboy patter as warm and winning as ever.
They are ably backed by a fine supporting cast, with Pete Gallacher suitably hammy as Fleshcreep, the baddie, Lisa-Anne Wood as Princess Apricot, the object of Jack's affection, Ashleigh Gray as Fairy Firefly and a cameo from Sean Scanlan as a bumbling, deaf King Crumble.
When the 3D arrives in the second act it's full of eye popping surprises and a giant with more than a passing resemblance to Shrek.
But it's the real 3D characters on stage in the shape of the Krankies and Barrowman that ensure the show goes with bang, even if a curtain malfunction at the end dampened celebrations somewhat for the cast at the end.
As Barrowman quipped to the audience at the time: "When life hands you a lemon, make lemonade," which pretty much summed up the warm-hearted, fun-filled spirit coursing through the whole show. Fandabidozi!
Jack and the Beanstalk, SECC, Glasgow until January 6. Tel: 0844 395 4000