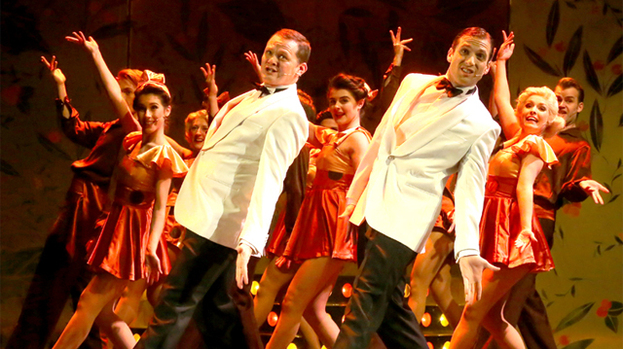 I tremble to think of the financial risk that John Durnin, the chief executive of Pitlochry Festival Theatre, must have taken on his production of Irving Berlin's White Christmas.
A cast of 20 and a ten strong live band must make it the most lavish production in Scotland this year, never mind this Christmas, and that's without even mentioning the huge sets and the truck that takes the orchestra upstage after its lively overture.
Fortune does apparently favour the brave, though, because, after a couple of not entirely happy forays into the world of pantomime in his attempts to make his theatre a year-round destination, not just a summer one, Durnin has without doubt hit the jackpot this time.
If this was London's West End, from where most of the cast have been drawn, you might expect a touch more star power in the leading roles, maybe a shade more hardware on stage, perhaps a fraction more colour in some minor roles. But in every other respect, this stage version of the film favourite about two World War II GI's, Wallace and Davis, who make it big in showbiz after the war and end up helping out their old general over Christmas at his struggling holiday resort in Vermont, scarcely puts a carefully pointed toe wrong.
Grant Neal's creamy voiced Bob Wallace and Martine McMenemy's initially starchy Betty Haynes, one of the two Haynes sisters that tie up with the boys for all the romantic intrigue you could wish for, are just two of the performances worth travelling miles to see. And Jacqueline Dutoit, who plays Martha Watson, the resort receptionist with a Broadway past and a voice the size of New England, is a revelation as an old style trouper.
Durnin himself directs with the surest of touches; Adrian Rees' designs look great; Chris Stuart-Wilson's choreography is plenty (there's even a tap number) and Hilary Brooks directs Berlin's ageless music with the kind of showbiz attack that comes straight from Broadway. When the snow finally arrives, the back doors of the barn open and we all join in the title number. Well, it would bring a tear to a glass eye.
And there is more Perthshire joy in St John's Town itself where Barrie Hunter returns to Perth Theatre as Dame, after his much praised debut last year, in a lovely looking account of Mother Goose (designs by Gary McCann).
Goose has one of the more elaborate panto story lines and one of its sterner lessons. Unusually, the Dame is not just the comedy turn but also the moral heart of the story as she discovers that riches and beauty do not add up to happiness. It takes all Hunter's guile, along with a script from the practised pen of Alan McHugh (who has no fewer than five pantos in production across Scotland this year) to get the balance right.
But get it right they do, tossing off some truly eggs-cruciating gags and a snatch of Adele's Skyfall, while still making us believe that Mother Goose is truly contrite when she sees the error of her ways.
Hunter is ably assisted by both the young cast around him and the outfits that Jennifer Melville conjures for him. Rachel O'Riordan, whose arrival in Perth as director last year has galvanised the theatre, directs with wit and energy.
White Christmas until December 23; Tel. 01796 484 626. Mother Goose until January 5; Tel. 01738 621031.