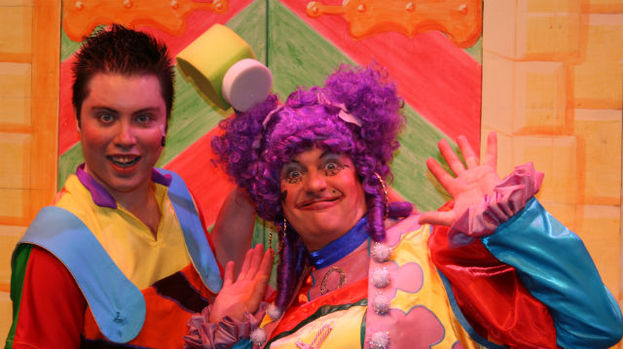 A lot of greasepaint, ad libs, puns , and laugh- out- loud shenanigans, have passed under the bridge since PACE youth theatre and Executive Director David Wallace staged their first Paisley panto with Babes in the Wood back in 1988.
Along the way the community based company mix of professional actors, and local youngsters, have impressively continued to punch above their weight by delivering shows, Paisley Buddies like myself, are proud to call our own.
This year is no exception. We all know money's tight, and the attraction of bigger star name pantos up the road in Glasgow of course still shines bright.
But Wallace and his team down the years are to be congratulated in providing a fun packed theatre experience to rival them, that has resulted in a loyal, returning audience ,for whom PACE shows are a more than welcome badge of quality during the festive season.
This year we're off up the beanstalk with Jack and Jill, a feisty love interest with a social conscience and more than a touch of the Occupy movement about her. Everybody's skint due to Laura Morrison's evil Queen's tax demands, backed up with the threatening bogeyman spectre of the giant, who may not be quite as bad as he seems..
Wallace once more plays the Dame, here Widow Trott, to hilarious, hammy effect, with regular sidekick Alan Orr, equally on form as his comic foil. Highlight of the night I saw the show came when the pair decided to sit front of stage watching Mathhew McBrier as Jack try to get his lines out without corpseing in front of them: a difficult job, but one that sums up the improvise if you feel like it, spirit of the show.
McBrier puts in a decent turn here, but it's Alison Tennant as Jill who really shines, bringing both feisty charm and energy to her role. Wallace, and Orr as travelling salesman and provider of magic beans, Giorgio,as always bounce off each other to great comic effect like the couple of old pros they are.
Mhairi Gilbert directs, and the show, which sports a Spanish twist this year, has some good musical numbers from Orr, as well as great pace that never flags. None of the chorus of local kids let the side down, and the end result is a fun packed show for all the family that it's hard to find fault with.
Jack and the Beanstalk, Paisley Arts Centre, Paisley, until Dec 31. Tel: 0141 887 1010