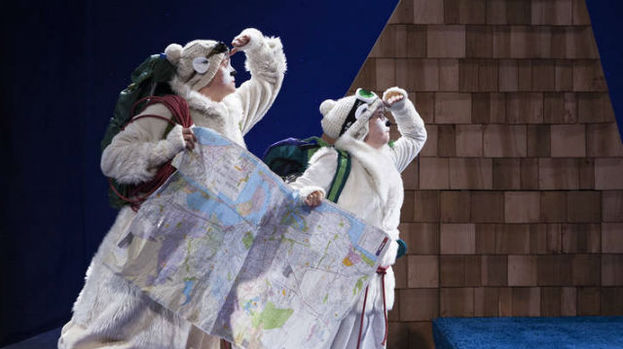 There is no dialogue in this Arctic adventure for under 5's, created and performed by Eilidh MacAskill and Fiona Manson.
But that doesn't mean it lacks for narrative drive. Far from it, this delightful, heart-warming show about a couple of polar bears exploring their environment, packed full of inventive charm and good humour (a game of switcheroo involving their rations; posing catwalk style for photos), that nippers will absolutely love.
Co-produced by MacRobert and Fish And Game, the whole thing is played out on the simple set of a vertical and horizontal triangle full of pop up surprises, that through the next 45 minutes passes for the icy arctic wasteland; a warming shelter; a ski slope, and even at the end, a Christmas tree.
It starts off with our intrepid and adorable polar bears, dressed in bobble hats and ski goggles and carrying rucksacks, indulging in some mountaineering (a simple rope stretched across the stage).
From there on in we follow the pair through a series of captivating mimes, some of which involve tiny replicas of themselves, as they sniff the children in the audience; play percussion on pots and plates; go kayaking and skiing; get the audience clapping along to a ukulele dance number; and, for the finale, take part in interactive play time party.
Here the kids get to mingle with the bears, and in the process help tidy up the tinfoil icebergs strewn across the stage that have magically materialised before them.
If you're looking for a touchstone, think Slava's Snow Show meets Paddington. MacAskill and Manson are simply an endearing delight as the polar bear double act, going through their physical theatre paces, pulling comic faces and lighting up the room like the northern lights.
In fact, so loveable and entertaining are they, that they are in serious danger of replacing Edinburgh Zoo's giant pandas, Sweetie and Sunshine, as the nation's favourite bears. They certainly have for me.
Scotland has a children's theatre sector that is the envy of the world. If The Polar Bears Go Wild is anything to go by, it's easy to see why. It's definitely one to put on your Christmas wish list if you haven't already done so.
The Polar Bears Go Wild, MacRobert, Stirling, until December 30. Tel: 01786 466666