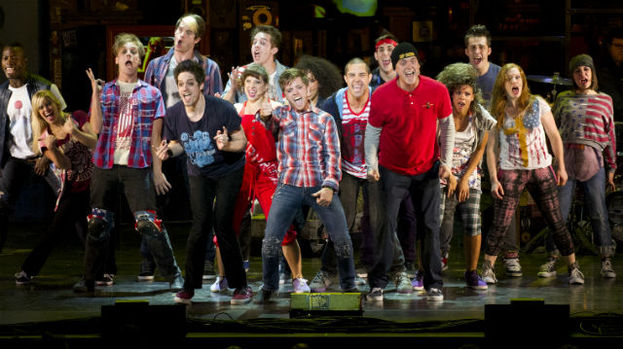 American rockers Green Day's back catalogue may seem an unlikley choice for a vivid, barnstorming night of musical theatre.
But that's just what Broadway hit, American Idiot, based on the pop- punks' 2004 award-winning rock opera of the same name, and currently on its first UK tour, delivers. The show packs an irresistible punch, and comes closer than any other jukebox musical I've seen in channeling the raw power and excitement of a real gig.
True, the book by Green Day frontman, Billie Joe Armstrong, and director Michael Mayer, is admittedly thin. The show's narrative drive, and broad brushstrokes characterisation, don't go much beyond the post 9/11 angst ridden, trials and tribulations of frustrated American youth to be found in the songs themselves, interspersed with a few dispatches home from "a land of make believe/That don't believe in me. "
But the jumbled, adolescent hormonal mix of longing, confusion, rage, and trying to find your place in the world, vividly realised on stage in this tale of three slackers, rings true. The show's emotional weight is also underscored by the choreography of Steven Hoggett, who worked on Black Watch. Above all though, what makes the show rock is its sheer pulsating energy.
Right from the power pop punk American Idiot opening, played out against a bank of TV screens that flash up images throughout the show on Christine Jones' grungey industrial looking set, the pumped up cast and excellent live band on stage, hit the ground running, and you can tell the songs are going to be in capable hands.
And so it proves, as we follow three friends trying to find themselves, and some meaning to their lives, outwith the constraints of suburbia, with their emotional journey charted through all the songs from American Idiot, such as Holiday; Wake Me Up When September Ends; Give Me Novacaine,plus some from follow-up album, 21st Century Breakdown.
Alex Nee is excellent as anti-hero rebel Johnny, who decides to up sticks to the big city, but finds only drugs and a Boulevard of Broken Dreams when he gets caught up in its underbelly thanks to devilishly seductive drug pusher St Jimmy, (a charismaticTrent Saunders who may be a manifestation of Jimmy's dark side), and finally ends up losing his girl, Whatsername (Alyssa DiPalma).
Tunny, (Thomas Hettrick, who like Nee and the rest of the cast is in fine voice here), also heads for the bright lights, but splits to sign up with Uncle Sam, and ends up fighting in the Middle East. Meanwhile, back home Casey O'Farrell cuts a frustrated figure as Will, whose dreams never get off the ground due to having got his girlfriend pregnant, and now sits moping on the sofa, beer in hand, watching TV.
Armstrong has guested at times on stage in the US. No such luck for fans here. But the terriffic, 20- strong cast and band more than make up for it, excelling themselves in burning up the stage, and bringing to life the emotional landscape, soundscape and mindset of the original album.Thrilling stuff.
American Idiot, Playhouse, Edinburgh, until Sat. Tel: 9844 871 3014. SECC, Glasgow, Oct 29 to Nov 3. Tel: 0844 395 4000
People who read this story also read