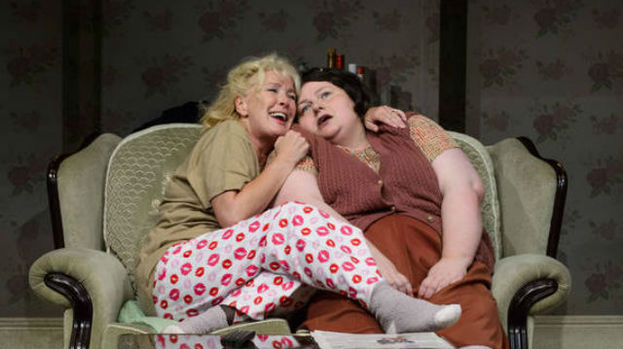 Turned into a successful movie starring Jane Horricks, Michael Caine and Ewan McGregor,Jim Cartwright's stage play, *The Rise and Fall of Litle Voice, is a heartwwarming Northern fairytale. And this current touring production more than does it justice.*
Star spotters going along to see the show will not be short changed, with Beverley Callard (Corrie's Liz McDonald; 2009 Dancing on Ice winner Ray Quinn, and Joe McGann all in the cast. Although unfortunatley McGann was unavailable for the performance I took in.
But while the show offers plenty of meaty parts for the star names , any production ultimately stands or falls on the merits of the actor playing Little Voice, or LV, the shy, reclusive, young girl who only comes out of her shell when mimicking the 60s divas from her dead dad's record collection. And in the multi-talented Jess Robinson the show's producers have come up trumps here.
Living at home with her pushy, man- eating mum Mari, (Callard in fine blowsy form, and sporting an array of gawdy gladrags that even Liz McDonald would baulk at), LV's escape from the world around her is to sit in her room mimicing singers such as Shirley Bassey and Judy Garland that meant so much to her dad.
Unfortunately for LV, her unique talent forces her out into the world rather than keeping her sheltered from it, when Mari's current boyfriend, small time, wannabe impressario, Ray Say (here,Philip Andrews deputising for McGann), sees his chance to make a mint, and use LV to fuel his dreams of making it all the way to "Tarbyland."
A fairytale set in the world of 70s Northern working men's clubs, (LV is forced into the spotlight at Mr Boo's club), Cartwright's script doesn't shy away from tugging at the heart strings, as our unlilely star is pushed from pillar to post; courted by Quinn and ultimately learns to speak up for herself.
But there is also plenty of Northern grit to be found here among the comedy, nowhere more than so than when Ray lets Callard have both barrels in his description of her as a clapped out slapper who is merely a means to an end for his ambition.
Quinn quietly goes about his business in the role of lovestruck Billy, while Callard seems to relish getting her teeth into the cartoonish, larger-than-life part of the selfish, self-obsessed Mari. And McGann mujst be good if the excellent Andrews has to play second fiddle as understudy for Ray on the tour.
However the show belongs to Robinson, who as LV turns in a showstopping, transformation from ugly duckling to glamorous swan during a barnstorming musical medley in the second half that shows she has anything but a little voice, and had the audience purring with delight.
That said the variety show turns at Mr Boo's that open each half of the show to get the audience warmed up are wearing, and unneccessary. Although, to be fair, the audience definitely seemed to be up for the bingo after the interval.
The Rise and Fall of Little Voice, King's, Edinburgh until Sat. Tel: 0131 529 600