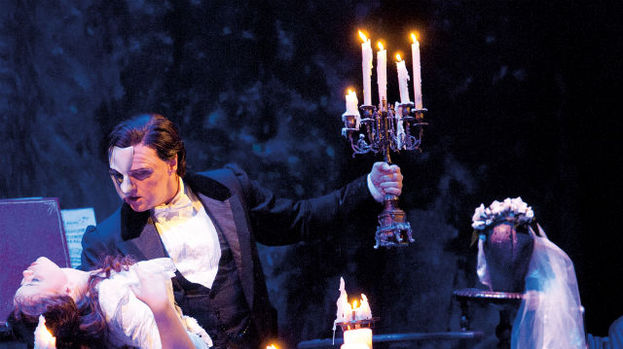 It's difficult to argue with the stats for Phantom of the Opera: the longest running musical in Broadway history; a worldwide audience of over 130million; a string of awards as long as the launch night queue for the latest iPhone.
And judging by the rousing reception this reinvigorated production received at the Playhouse as part of a UK tour, 25 years after it first premiered at Her Majesty's Theatre, London back in 1986, it seems to have lost none of its power to captivate an audience.
Yet, as a Phantom virgin I have to confess that the show doesn't float my boat, the better known melodies - The Music of the Night; The Phantom of The Opera; All I Ask of You-haunting enough, but the overall tone of the piece too bombastic, and not dark enough, for what, after all, is meant to be a chilling, suspense-filled Beauty and the Beast Gothic horror about romantic obsession.
I also found the tongue in cheek opera parodies a little on the fussy side, and there are times elsewhere, (when all three leads are on stage at the same time), where the result is a musical soundclash in which they succeed in drowning each other out.
Much has been made of the fact that this new production, directed by Laurence Connor, (who made such a fine job of Oliver!, and keeps the suspense ticking along nicely here ),boasts a new visual style thanks to Paul Brown's design.
Having not clapped eyes on the original I'm in no position to judge whether it's an improvement or not. Although I'm reliably informed the famous chandelier overhead, while still intact, isn't used as spectacularly as it was previously to scare the bejesus out of the audience.
But Brown's intricate, revolving, cut and shut set, whether backstage at the Opera House, or depicting the Phantom's candlelit lair is an atmospheric enough backdrop for the love triangle our tortured musical monster finds himself caught up in as he tries to woo Katie Hall's operatic songbird, Christine.
Cast-wise there's no denying the quality on show here. Veteran Phantom star John Owen-Jones brings real vocal horsepower and empathy to the tortured "creature of the night" . Simon Bailey is also in fine form as Christine's rather less maniacal love interest Raoul, while Hall herself brims with star quality.
But like I said the show failed to bowl me over. That said, it's easy to see the appeal that has kept it running for a quarter of a century.
The Phantom of the Opera, Edinburgh Playhouse, Edinburgh, until Oct 20. Tel: 0844 871 3014
.