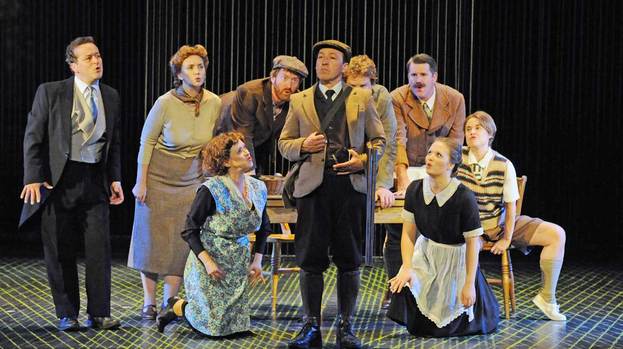 The Cone Gatherers is a tale of the dichotomy of good and evil set against the backdrop of World War Two and Hitler's regime.
Aberdeen Performing Arts' perfectly set production - directed by the renowned Kenny Ireland - explores the story of Highland gamekeeper Duror and his revulsion towards a hunchbacked cone gatherer named Calum.
The ensemble cast may be small but they gave a powerful delivery of Robin Jenkins' 1950s tale of sacrifice and social inequality.
From the moment they walk on to the set - with its green-tinged lighting and disorientating forest-like structure - it is clear this is going to be a disturbing yet mesmerising piece of theatre.
The cast handle the complex script well with additional elements of music and dance.
Playwright Peter Arnott's dialogue is both spoken and sung and, although the melodies are unmemorable, they capture the sombre mood of the piece.
Helen Logan gives an unnerving portrayal of Duror's crippled wife Peggy whose physical and psychological ailments are highlighted through a mixture of disturbing choreography, music and stage projection.
Native Aberdonian Maxine Hamilton gives an outstanding performance as the deer through Karen Berry's impeccable choreography.
Her delivery is both beautiful and manic - evoking the confusion and panic of an animal caught in a hunt.
Jenkins' main narrative is supported well through a number of sub-plots which are cleverly presented by the cast.
Upper-class snob Lady Runcie Campbell - played by Jennifer Black – compliments McGovern well with her convincing intolerance to gypsy brothers Calum and Neil.
Helen McKay is believable as her young son Roddy who becomes a symbol of equality after befriending the cone gatherers - while John Kielty gives a harrowing performance as Calum's devoted brother Neil.
But it is Tom McGovern's Duror and Ben Winger as Calum who really shine in the piece.
McGovern is truly frightening as a man caught in a downward spiral to maniacal evil.
Winger paradoxically portrays Calum's disability and love of nature with a childlike innocence that is truly heartbreaking.
Aberdeen Performing Arts yet again prove themselves a strong talent with their third large scale production - taking the audience on an atmospheric journey into the dark world of obsession and evil.
The production is touring to Glasgow, Edinburgh and Inverness.
People who read this story also read