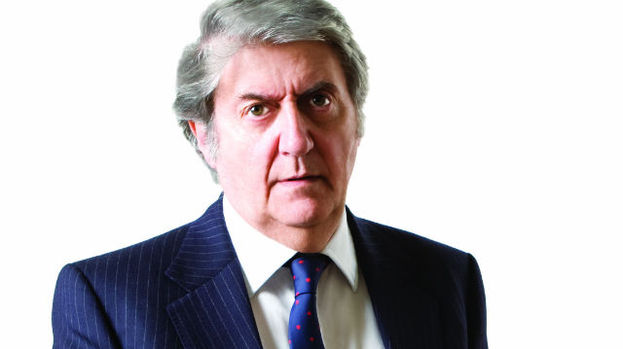 Scots actor Tom Conti can currently be seen on the big screen in the latest Batman blockbuster, The Dark Knight Rises.
Here, he returns to his stage roots in Terence Frisby's court room thriller, which opens here before touring the UK, playing James Highwood, a high profile media commentator accused of murder.
Unusually for a courtroom drama, in Rough Justice, Highwood, who is more used to bringing the establishment to book rather than the other way round, freely admits to killing his brain dead son for his own good, and chooses to defend himself in court. Whether Highwood intended to kill his son, or acted on impulse, will determine whether he goes down for murder or manslaughter.
The audience having had the rug pulled from under them as far as any whodunnit action might be concerned, what follows is an uneven spearing of the legal system, woven around an emotional look at a mercy killing that barely fails to engage the emotions at all.
Partly this is due to director James Larkin's laboured and soporific production, in which the cast, including the usually reliable Conti, seem to be sleepwalking their way through the show, and stumble over far too many of their lines. Partly it's because Frisby's script just isn't that gripping, and too often sails close to the wind of melodrama. A twist in the tale halfway through intended to add extra dramatic heft merely comes across as manipulative.
Frisby admits that he wrote Rough Justice out of a sense of frustration and injustice at his own dealings with the law.
So, in between the human drama on show, in which Conti and his wife Jean (Carol Starks) offer up the human conflict at play as far as the ethics of euthanasia are concerned, Highwood, in his sparring with the Judge (Royce Mills) and Elizabeth Payne's prosecuting QC, merely comes across as a mouthpiece for Frisby's misgivings.
A loosely knotted thread of thought, these seem to centre on the power of the jury to exercise common sense in deciding what is right regardless of what the law dictates, (good); and the vanity and ego of those involved in the practice of law; plus the bit part role in proceedings given to the accused whose life may be changed forever, (bad).
In his programme notes, Frisby champions juries who have returned not guilty verdicts despite the judge dictating otherwise, but in the next breath is thankful that the Court of Appeal (i.e. the law) is there to put things right when they return perverse guilty verdicts. Surely a case of wanting to have your cake and eat it as far as the legal system is concerned.
Conti came to prominence in another drama about a person's right to life or death - Whose Life Is It Anyway? But Rough Justice is no Whose Life Is It Anyway? Or Twelve Angry Men for that matter. Instead the piece comes across as an overlong, and overly long-winded, episode of TV drama series Crown Court. And a rather dull, tub-thumping one at that.
Rough Justice, Theatre Royal, Glasgow, until Sat. Tel: 0844 871 7602