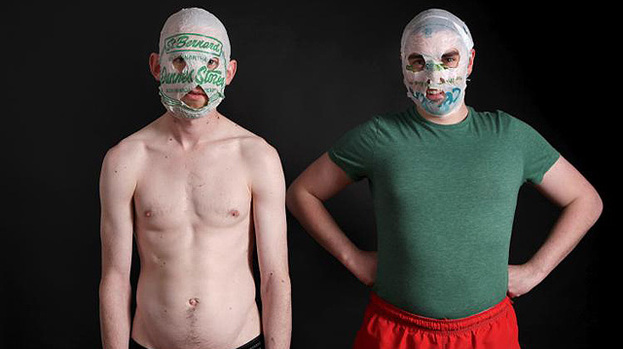 Looking to represent the "true anarchic spirit of the Edinburgh Fringe", the weekend's two-hour Malcolm Hardee Awards Show brought some unforgettable sights.
Its two-hour variety show was hosted by Miss Behave at The Counting House on Friday night.
Its highlights included the Greatest Show on Legs performing their Naked Balloon Dance (in Prince Harry masks to honour the royal rascal), and a Russian Egg Roulette contest featuring, among others, comedians Arthur Smith and Richard Herring.
The awards are given in memory of inimitable alternative comedy godfather Malcolm Hardee, who drowned in 2005.
The Malcolm Hardee Award For Comic Originality went to The Rubberbandits, the hip-hop comedy duo from Limerick, Ireland, who conceal their identity on stage and in interviews by covering their faces in masks made from shopping bags. Their Horse Outside YouTube video has had over 9 million hits.
The Malcolm Hardee Cunning Stunt Award (for best publicity stunt promoting a Fringe show) went to Stuart Goldsmith.
After the censorship of his and others' listings in the Fringe Programme (his show is called Prick and was changed to Pr!ck), Goldsmith posted a YouTube video in which he said he would donate £1,000 of his own money to the Waverley Care HIV charity, but would deduct £100 from this every time a critic used a pun on the word "prick" in their review.
The Malcolm Hardee 'Act Most Likely To Make A Million Quid' Award went to Trevor Noah. The South African comedian has appeared on The Tonight Show with Jay Leno in the US, with his Edinburgh Fringe show presented by Eddie Izzard. He has sold more DVDs in Africa than any other stand-up comedian.
The awards will run until 2017 because "that's the number of trophies which were made". All monies donated by audience members at the awards show will go direct to Scotsman comedy critic Kate Copstick's Mama Biashara charity with no deductions.
More About Edinburgh Festivals