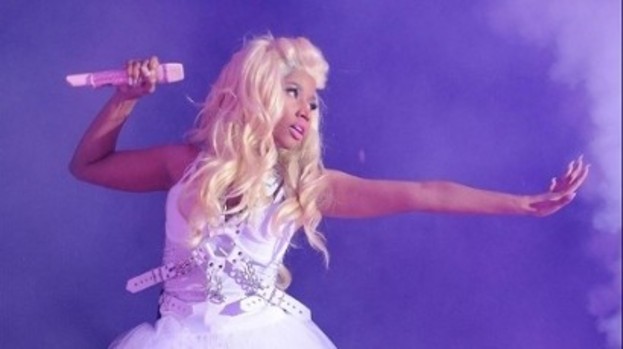 It seemed I was not the only one wondering how many of her multiple personalities Nicki Minaj would bring to Balado, and if they were all going to fit on the one stage come to think of it.
With easily the biggest NME stage crowd of the weekend-all venturing to the thickest part of the marsh for her set- her fans filled from the stage to just about the big wheel. For those of you not at T this year, without getting out the trundle wheel, that's a very large distance.
Running late, at first I thought Miss Minaj was allowing for the lag time taken to move through the thickening mud, but then as ten minutes became half an hour, she just got plain annoying.
In the meantime, the on site entertainment was provided by drunken males hassling the on site masseuses- a disaster waiting to happen. Holding the crowd with the promise of her set, though with the moans and groans mounting, all notions of the controversial New Yorker's Pink Friday were fading fast, given we were already ankle deep in Brown Sunday, and it was only a few hours away from Blue Monday.
Past fashionable and fifty-five minutes late, the rap star ran onto the stage with no introduction, and a mega-sized bridge centre-stage lit up, allowing her team of BacoFoil-clad dancers to be seen writhing all over it.
Backed by rhythmic sub bass, a male MC, and aggressively rapping into a baby pink microphone, the 29-year-old and Roman's Revenge surprised the crowd- the enigma had arrived, but there was no hello or explanation.
Babbling with her booty in the air, she got cheers from the front of the stage and boos from the back, having made enemies from her unexplained late arrival-now was the turn of the crowd for their own revenge.
Using an olive branch of chart hits to win them back round, perpetual anthems, Starships and Pound The Alarm, had the crowd using all remaining energy reserves, but the booing was still obvious as each track faded.
The hurried set didn't show much rhythm, or fluidity, or finesse, or come to think of it…talent. Miss Minaj showed none of the quirks of her many interviews and simply came across as bratty.
With pre-rehearsed lines and no genuine crowd interaction, twenty-five minutes after it all began, she jogged back off of the stage, and the crowd were left wondering, 'Did that actually happen?'
T in the Park have released a statement to confirm that unfortunately Miss Minaj's flight was delayed, leading to her late arrival and short set. What the statement didn't explain, was why she was so damn awful.
People who read this story also read