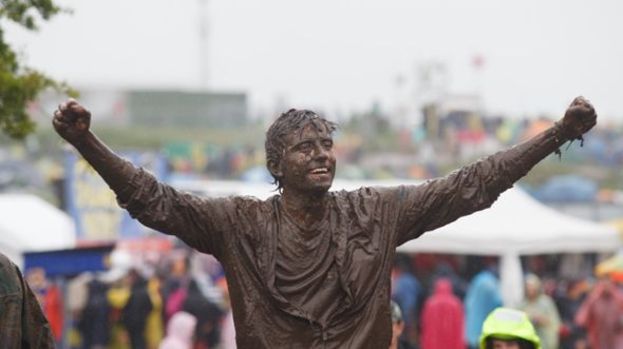 Plagued with that question of what exactly is a Rita Ora, how many people does it concern, and what does it actually do, curiosity had me trudging all the way through the brown field of abandoned shoes, to the far away land of the NME stage.
Like Jessie J, and perhaps even more so, her voice preceded her (yes,I worked out Rita was a her, and not one of these one person band names like Mike Snow, ever so confusing at times). Hearing her name so often recently, it was no surprise to see that T in the Park had formed a large crowd for her, brushing off their hangovers to catch their new favourite star.
Blonde and boisterous, Rita Ora flirted with the crowd as she dominated the stage in a fringed frock. Shaking it like a hula skirt, there's nothing shy about Miss Ora, who sported a similar attitude to Kei$ha last year.
Recognising her closing track as THAT song that's been everywhere for the past few months, where she features with Invincible star, Tinie Tempah, Rita Ora is an acquired taste, but she knows how to brighten up a dreary field.
With much of the crowd ambling over to King Tut's Wah Wah Tent in the aftermath to see sweet songstress Christina Perri, they were in for a shock as Glasgow's answer to The Bloody Beetroots held the stage hostage.
A trio of mask wearing muscles, two laptops, a drum machine, and a whole lot of other electronic wizardry, Roman Nose generated screaming synths, booming beats and enough bass to throw the crowd against the back wall. It's a good job we had all gained that half a stone from the mud.
The trio were the T Break headliners from last night, who were forced to cancel at short notice after a drink was thrown on stage and equipment was broken. On the plus, fate saw the trio as winners today, as they stepped in to the much larger tent, taking the place of L.A's Christina Perri, who was forced to cancel after travel delays.
With quirky visuals and a set to attack and control the crowd, the three piece were more than capable of commanding a tent that size, drawing in people from the swamp until they held an ecstatic mass. Looking bigger than the T Break tent already, their combustible, fast-paced electronica showcased an exciting new dance act for Scotland.
Only their third live show to date, and with the mystery of their identity still in tact for the time being, there's a whole lot more to come from Roman Nose; I'd advise you sniff them out whilst they remain relatively undercover.
People who read this story also read