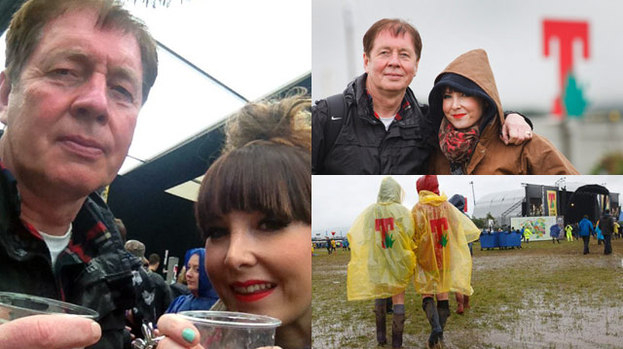 My dad and I share a love of music, in particular live gigs. I credit him with fuelling my passion for all things musical – blasting out everyone from the Beatles and Rolling Stones to Franz Ferdinand and The Vaccines every Saturday morning, as he gets ready to hit the golf course – it's always a comforting sound.

He has eclectic taste and has been to see some of the all time greats over the years and, at 62, his passion for gigging shows no signs of slowing down.

That's why I thought it would be fun to do a piece on the oldest rocker in town at T in the Park, as he was once again venturing to Balado to be part of the 85,000 strong crowd of music fans he loves and deserves to be a part of.

Jim – the legend as some of my friends lovingly call him - is no stranger to T. But after last year's antics, my mum warned him he was never going again.

You see, Jim joined me at T 2011 on the Sunday, after I had been working, dressed in nothing but jeans, a shirt, a half sleeved golf wind cheater and his beloved Timberland boots.

Wellies? Pah, who needs wellies? And a rain jacket? Well, that would certainly clash with his Gant shirt? Five minutes into his arrival on site, I had him wearing a yellow poncho as I ushered him into the King Tuts Wah Wah Hut tent to try and salvage his beloved boots. Brandon Flowers was playing anyway and we both love him – although in different ways I'm sure.

As we left the tent, smiles on our faces, Jim suggested going to get the car, so we beat the crowds. Good idea… although he couldn't remember where it was.

Fast forward three hours and I was slumped in a dark, wet, muddy field in tears of despair as we could not find the car. You can read the full story of what happened here but needless to say, we ended up on the last bus home and dad had to return the next day to find his car… which had been about three metres away from us all the time.

Mum insisted his partying days were over but when my friend suggested we buy our dads tickets for the Friday, how could we resist.

Jim and his best friend David ventured to T in the Park 2012, armed with rucksacks filled with baby wipes, bottled water, tissues and rain jackets. They were like excited school children as they got on the bus, which they had booked for 10.30 to ensure they were there in plenty of time.

Well, yes, they certainly had plenty of time when they arrived just before 12 o'clock – the gates didn't open till four! Four hours they spent sitting in the field, watching in wonder as the T campers filed past them, using all manner of weird and wonderful contraptions to carry their beer slabs from the carpark to the campsite.

When they did get into the festival, they had a ball, although their review of The Cribs was far from kind, but they loved New Order.

Jim and David, or Jack and Victor as we call them, returned, still sporting rucksacks like Dora the Explorer gone wrong and rocking some nice burnt faces (and knees – they were wearing shorts) from their day.

On Saturday, it was my turn to return to T with Jim, but this time I insisted he wore his wellies and the rain jacket I bought him especially on Father's Day. He threw them in the back of the car mumbling (fashion diva) but was so grateful when we arrived on site to swamp like conditions.
T-ERRIFIC

After taking pictures of the car and marking out landmarks so we could find it – there would be no repeat of last year - we embarked on the long walk through the mud to collect our tickets and, about an hour later, we were in.

The weather was miserable – there was no two ways about it – but Jim refused to let this get us down, as we took shelter in the hospitality tent.

As dance music blasted. Jim was tapping along, saying "I really like this stuff, those DJs are great." And although he may be a little older than your average T punter, he certainly didn't look out of place in the crowd. Although, I'm drawing the line at him ever wearing one of those all-in-one jumpsuits he was admiring, that people at festivals seem to love.

A light refreshment and we were ready to brave the elements and we're so glad we did as Emeli Sande on the main stage was incredible. Her voice soared around the festival and she found a fan in Jim, who said she was better than Adele – a compliment indeed seeing as he's a big fan.

It was all about the main stage for my dad as he couldn't wait to see Simple Minds. We met one of his work colleagues and her son who introduced us to the beauty of the Vodafone viewing platform, where you can watch the action and stay relatively dry – a blessing, you would have thought, when outside was literally a mud bath.

Not for Jim; after singing the praises of "The Minds" (on Friday he was referring to "Flo and the Machine") he decided he wanted to be in amongst the action. Oh joy.

But give Jim his due, dancing around to The Vaccines (yes, he was jumping and singing If You Wanna) was a highlight, despite the mud overflowing into my once gleaming pink Hunters.

Before Noel Gallagher and High Flying Birds took to the stage, we grabbed some food at Healthy T – me, a 'healthy' lamb kebab and Jim a not-so-healthy Pizza which would have fed half the revellers at the Park.

We sat in the rain, water and mud dripping everywhere and I looked at my dad for signs he might want to give up and head home. If I'm honest, at this point, that's all I wanted to do, but no, he was determined to stay to the end. After all, the rain is what makes T, apparently.

With that, we were back in amongst the crowd, pints of I dread to think what flying at our heads, as Noel Gallagher played an impressive set, with the highlight for me being Half the World Away. Jim loved it and I was proud that he was singing along just as much as anyone. Being pushed, shoved and jumped on by drunken T-ers did nothing to phase him.

The Stone Roses rounded off the night in style, with both of us knowing it was something special to see true legends adored in the fantastic fields of Balado.

Wet, cold, muddy, tired but thoroughly delighted after having one of the best days ever, we made the long journey back to the car – which almost ended in disaster as we thought we had lost it, again. That was going to be an interesting phone call to mum. She would have disowned us.

But just as we were about to give up hope, we saw our carriage awaiting – the relief!

As we drove home, my dad talked about what a great time he had had and thanked me for going with him. But the pleasure was all mine, Dad, and thank you. I know how lucky I am to have a father who remains as passionate about music as ever and someone I can be proud to party with. To put it simply, Dad, you rock. Here's to next year.

People who read this story also read