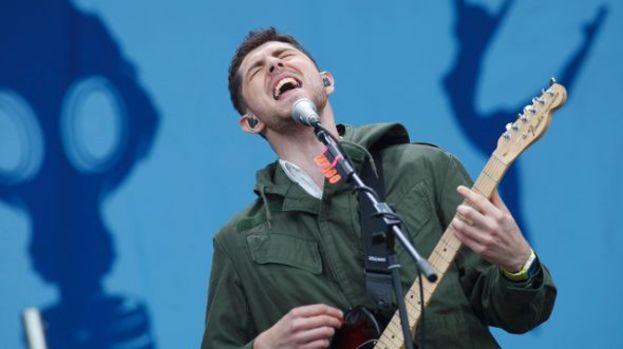 With their recent projection into the limelight, and their unexpected mainstream airplay rendering them Radio 1 darlings, the boys from Glasgow have also found themselves on the Main Stage at T in the Park. Pulling a big crowd, all willing and ready to participate, rockers, Twin Atlantic have enough girth to get the boys air guitaring, whilst their big choruses get the girls in full voice- oh and the tight jeans help that too. There was a lot of swooning going on in the park during this set.
Playing to a homeland crowd, the four piece even surprised themselves, with frontman Sam McTrusty notably a little bit overwhelmed at the occasion, as he explained to the younger crowd that just a few years ago, they themselves were paying for tickets to see their own heroes.
It may look like a different planet today with the surrounding sludge, but the bigger stage is no alien environment to the boys, who have been playing higher and higher profile support slots, recently opening for Blink-182 at the Glasgow date of their tour. Entirely at ease, guitarists Barry McKenna and Ross McNae make the most of their available space and swerve their guitars around like light sabres, wrapped up in their performance.
Nearing the end if their set, Make A Beast Of Myself gets the crowd cheering as soon as the synchronised thrust of guitar and cymbals strikes. Singing along with hands in the air, Twin Atlantic have the ability to swipe in on the Biffy market as Scottish guitar heroes. Whether it happens or not will become apparent in time, though from the response to their single, Free, it looks like they're already well on their way.
Boasting Buckfast for breakfast, and continuing the swig onstage, out-of-towners, Howler, try hard to find their way into the Scottish crowd's hearts. Hosting their very own, much more intimate T Party from the Transmissions Stage, their performance is enjoyed no less by the attendees. The pretty boys from Minneapolis are a little like The Strokes before they went sour, with a feral pulse running through their savage indie jangle.
Joining the guitar-fuzz brigade, but doing it well, Howler are youthful enough in face and in sound to pass some of those care-free vibes on to the weary T crowd. With the mud thickening, it looks like swaying is a more likely option for tonight's headliners than full on dance, though with Kasabian's Club Foot set to kick Balado into action, that seems more and more unlikely.
People who read this story also read