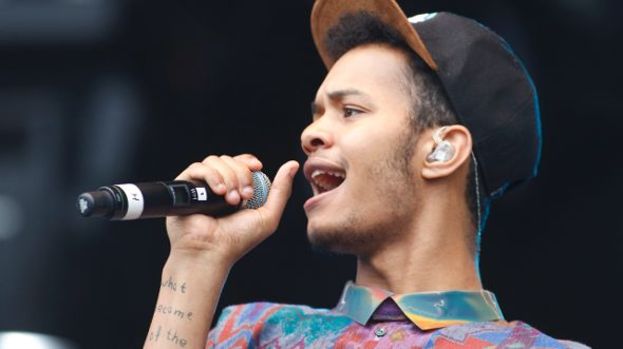 Running ahead of schedule, I only caught the last few songs of Rizzle Kicks' energy abundant set, though their mammoth crowd, regardless of the heavy rain, proved Dappy's previous unpopularity as a case of taste rather than the elements. Oh well, at least that's that one cleared up.
Sending mud freckles flying with their perpetual bounce, the spring-loaded duo had the whole crowd splashing to the beat, their rise to success no wonder when you see them navigate a crowd.
A brief departure from the rain allowed a remarkably easier wade to singer-songwriter Benjamin Francis Leftwich, who brought chilled-out charm to early evening T.
A blissful break from the full-on garish ways of tipsy T, his signature smooth and melancholy vocal played a swelling Hole in My Hand with his full band, before an intimate acoustic session on his own. Starting with the delicate Pictures, the sway-paced star had half of the crowd entranced. The other half were, quite unfortunately, a worse-for-wear rabble, who were sheltering in Leftwich's performance, rather than enjoying it.
Simplistic and honest, Leftwich is nothing new in his set-up, but he has an endearing quality that should see his fan base continue to grow, a bit like a certain Mr Howard.
Playing the gig of his life in King Tut's Wah Wah Tent, Ben Howard had the Scottish crowd spilling out of the sides of the tent and into the ankle-deep mud sludge which now affects most of the arena, and practically all of this tent as far as I could see.
Suddenly taking over the mainstream with his debut album, Every Kingdom, his throaty vocal in Only Love could be heard radiating from the tent, which was finally completely closed off during his next track. With the crowd continuing to mount against the barriers surrounding the tent, Howard and his band were barely visible, but made their presence known through heart shaking crescendos. Here Howard exhibited a genuine sincerity in every word delivered in his earthy-folk sound.
Under a skyline of fairy lights, each track had the crowd singing along, Black Flies acting as a warm up for The Fear where the tent really joined vocal forces fully, in harsh Scots tongue.
With Keep Your Head Up, acting as an anthem for the wet T in the Park crowd today, I'm not sure about Every Kingdom, but Ben Howard seems to have taken over this one.
People who read this story also read