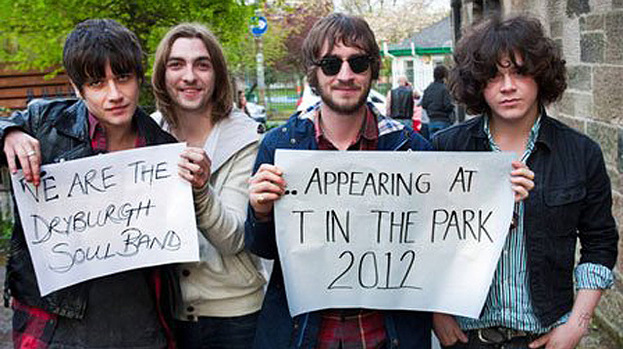 The Scottish indie rock group have lived up to new album title Cheeky For A Reason – as an unexpected appearance at Balado next weekend was teased today.
Organisers had earlier announced the addition of a home-grown and hugely successful band – 'The Dryburgh Soul Band' – leaving clues as to the identity of the mystery group, including photos with the faces out of shot.
Though the name wasn't instantly recognisable, the 'cheeky' chaps are no strangers to T in the Park – and fans had soon guessed it was The View who would be added to the bill headlined by Kasabian, the Stone Roses and Snow Patrol
The Dundee quartet first rocked T in the Park in 2006 before returning again in 2007. Their most talked about performance came in 2009 when they performed in a jam-packed King Tut's Tent.
They have played the Main Stage to a captive audience every year since – even if they didn't have the Same Jeans on.
The band released their first album in 2007 and were nominated for the Mercury Music Prize the same year. Since then the band have released two more albums, all soaring into the charts and fourth studio album Cheeky For A Reason will be released on July 9.
Tickets are on sale now from ticketmaster.co.uk and by calling 08444 999 990.
People who read this story also read