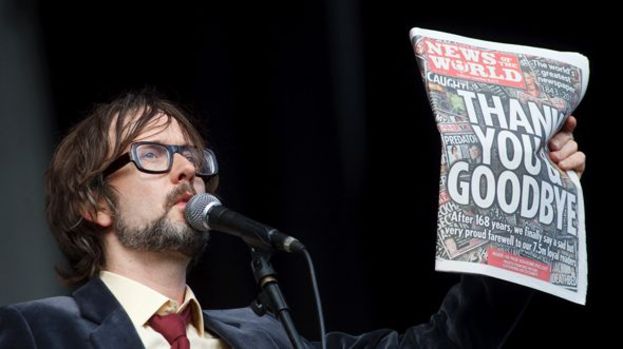 Jarvis Cocker expressed his thoughts on the demise of the News of the World to thousands of festival goers at T in the Park yesterday.

After opening with crowd pleaser Do You Remember The First Time, he grabbed a copy of the now defunct paper and held it up to the crowd saying: "Do you remember the first time? Do you remember the last time?"

Cocker then pretended to wipe his bottom with the final edition of the paper, before declaring: "That's the only thing that piece of s**t has been good for in 168 years."

The crowd cheered his action before Pulp went on to delight Sunday night T fans with a rousing set including favourites Disco 2000, This is Hardcore and a grand finale of anthem Common People.

Meanwhile, copies of yesterday's News of the World sold out and are now selling on eBay.

The paper announced it was shutting down on Thursday after a series of phone hacking allegations.

The final straw came when it was accused of hacking into the voicemail of phones belonging to murdered schoolgirl Milly Dowler and relatives of 7/7 victims.
T-TIME TREATS