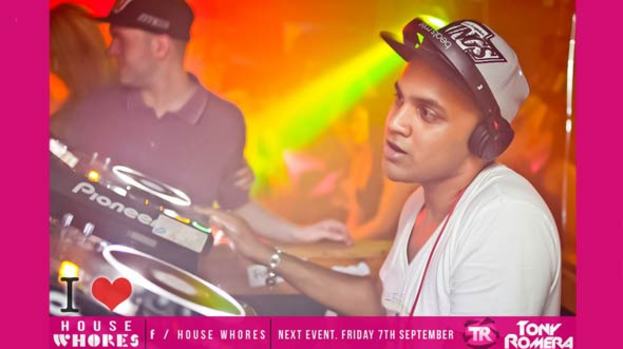 Paul Zitkus & Stephen Lynn collaborate as the 'House Whores' and invited STV Clubs to O'Couture in Glasgow to experience their kind of party. Not any kind of party though, this particular party was part of a World Tour, with the House Whores successfully securing Artistic Raw's UK leg.
After hearing glowing reports from House Whores previous club nights, which have brought DJs from far and wide to Scotland, how could we refuse!
The House Whores currency is solely in House music (the clue is in the name…) and they aim to bring stars of the House, Tech House and Progressive House scene to Glasgow every month. Their niche is that they only showcase Scottish Debut performances, so each and every DJ should be playing on Scottish soil for the very first time.
I arrived around half 11 and manoeuvred myself around a busy student filled Sauchiehall Street to get down to the O'Couture basement. The basement had 2 rooms opened for the night and groups of friends were mingling between both. I even stumbled across an 80s themed hen party on my travels around the club!
Tambo McGrory was just coming off the decks in the main room when we arrived and made way for Loca, who was making her House Whores debut. She loosened the crowd up with a mash up of Alesso's Nillionaire and Together by Axwell and Sebastian Ingrosso and brought the tempo up with the thumper that is Autoerotique 'Turn up the Volume'.
Stu Laurie was the warm up for Artistic Raw with the main room continuing to fill up throughout his set; he entertained with Criminal Vibes – Pump up the Jam and a Bingo Players remix of Sir James - Special. Then it was time for the main man of the night!
Artistic Raw fired straight into action from the start and made sure we didn't have time to catch a breath; hitting out with banging remixes and bootlegs that have been dominating the Dutch house scene recently. We were of course treated to 'Wolfpack' his latest collaboration with Basti Lourenz; fist pumps were in full force to this track that's set to be a hit of Summer 2012.
The House Whores aka Stephen and Paul stepped up after Artistic Raw and although they had some pretty big shoes to fill we're happy to report that they kept the atmosphere up at 10.
I did in fact have to pinch myself when I heard them drop Wannabe Drop It (DJs From Mars Mashup); might be a bit of a risk but I think every girl in the club screamed 'Zig a Zig ah!' when it came down to it! We were also treated to Nicky Romero's brilliant remix of Green Velvet's Flash, Niggas Satisfaction In Paris (Chuckie Bootleg) and Hardwell vs R.E.M. - Losing My Three Triangles (Hardwell MashUp)
All in all it was a great night and I can assure you that popping our House Whores cherry was very memorable; for those of you who haven't been along to one of their nights yet, we suggest you do!
At the last House Whores event with Dyro, we hear Dyro partied rather hard and even challenged Artistic Raw to go one better……wonder what the outcome of that competition was?!
You can keep up to date with The House Whores on their facebook page.