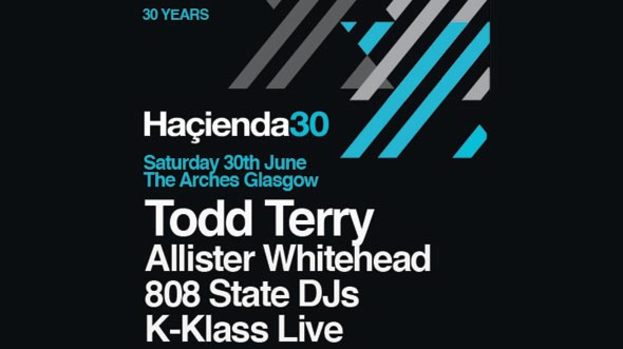 As part of The Haçienda's thirtieth birthday celebrations marking three decades of the infamous Manchester club, Fac 51 The Hacienda returns to Glasgow with its long standing promotion partners STREETrave for a very special event bringing the inimitable vibes of Fac 51 north of the border for a one off party which will see the very best of Glasgow and Manchester combine on the night.
An extensive bill for an eight hour session has been amassed for the event which sees the legendary American house pioneer Todd Terry headline in a rare Scottish appearance. One of the most lauded and respected house DJ's ever, Todd's back catalogue sees his own productions such as Orange Lemon's "Dream Of Santa Anna", Black Riot's "A Day In The Life" and "Just Make That Move", CLS's "Can You Feel It" compete with his extensive repertoire of remixes, Pamela Fernandez's "Kicking In The Beat", his UK number one treatment of Everything But The Girl's "Missing" and Cajmere's "Brighter Days" for space within his innovative and tightly constructed sets.
An opportunity to hear a true legend of the scene, from the Hacienda side Todd is joined by the ever young Allister Whitehead whose tasty garage grooves will warm up for Todd's tougher side of US house while 808 State DJ's bring their old school rave and techno slants to the event providing a counterpoint to Todd and Allister's tastes for the best of American and European house.
In a rare live outing nowadays, K Klass, whose Rhythm Is A Mystery release remains a much admired classic, come to the Arches for a full live set which will see many of their classic, newer tracks and remixes aired for the Glasgow faithful.
Joining The Haçienda for the event are many of the DJs who have made the Scottish scene and especially STREETrave so successful since the late Eighties. With a wealth of experience between them, the likes of Jon Mancini, Iain 'Boney' Clark, Yogi Haughton, Craig Smith, Murray Richardson and special guest Colin Barr round off the line up with
Bryan Love, Peter Farley and Kris Greig taking charge of the third room.
Across The Arches cavernous warehouse space, all three rooms will be dedicated to a celebration of Hacienda classics now and then in a unique and distinct event marking thirty years of The Hacienda's influence and Manchester's close relationship with the Glasgow clubbing fraternity.
Expect the very best of house music and techno, a clued up and knowledgeable crowd and excellent sound lighting and production. Hacienda 30 Glasgow looks set to match the recent events, both in Scotland, Manchester and across the UK for atmosphere and for all ardent Scottish clubbers marks a night not to be missed out on.
Fac 51 The Haçienda and STREETrave Present
Haçienda 30 - A Special One-Off Party
Saturday 30th June 2012
The Arches, Glasgow
7PM-3AM
30 years of memories over 3 rooms from 7PM for £15 + BF!
Tickets from The Arches Box Office, Tickets Scotland, Ticketline.co.uk & MyGigTicket.com