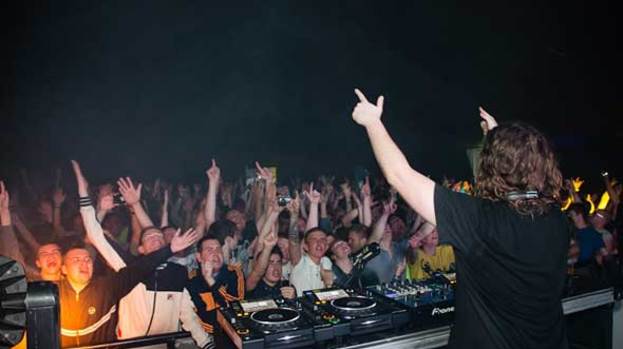 After a spellbinding set which rocked the House of Colours stage, Tommy Trash caught up with Justin Tait backstage to discuss the vibe from his debut Coloursfest performance, studio work and his Summer plans…
You've just made your debut at the legendary Coloursfest, how did it feel?
It was amazing; it was everything I'd hoped for. I'm so happy and already I'd love to come back.
Did you feel as if there was a good connection with the crowd?
Yeah, I think it went down really well. There was a good Scottish reaction to some of the tunes and loads of arms in the air so I'm delighted.
How important to the Scottish clubbing scene do you think big events such as Coloursfest are?
Any sort of event which encourages dance music has got to be good a thing. In the Summer there seems to be a festival every other week so sometimes it takes away from clubbing but it is definitely important to have these massive events and for everyone to have that type of experience because it is very good but very different. I suppose, a balance of both is always going to be a good thing.
What are you up to in the studio at the moment?
At the moment I'm finishing off a single with Sebastian Ingrosso, working a few remixes on Fools Gold with A Trak, a few tracks with Congorock and also some solo Tommy stuff. I've been doing some Mau5trap stuff as well, so I'm sort of spreading the love a bit!
Any Ibiza plans?
I actually just got back from Ibiza, I played F*ck Me I'm Famous with David Guetta which was awesome. I think it was only the second party of the season so Pacha was packed. I've still to play a show with the Swedes and a few shows with Tiesto so I'll be over there four or five times.
Are there any other artists you are desperate to collaborate with?
There are some many artists I'd love to work with. There's a lot of good Djs at the moment who are really creative and classy. I should probably mention Chris Lake as he's from Scotland (laughs); I'm making great stuff with him at moment; I got my bit of Scottish love in there!
Top tracks for the Summer?
I'm definitely going to be playing Atom by Nari & Milani , I know it's not new but it's a really great club tune and I also love Dirty South's mix of Miike Snow's Devil Work, that's a really nice tune.
Thanks Tommy! Come back to Scotland again soon!