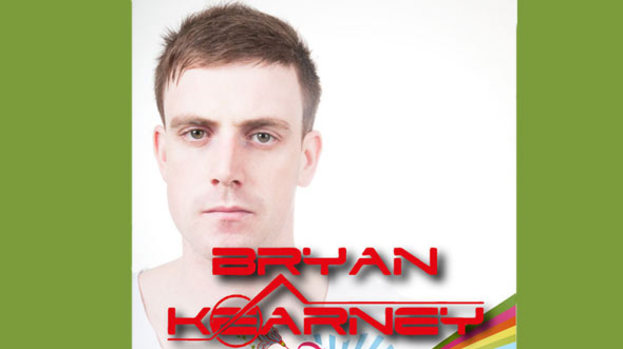 You are about to play the legendary Coloursfest in Glasgow…. How excited are you?
Extremely excited. It's an event I have heard a lot about and I'm sure it will live up to expectations.

What can the Coloursfest crowd expect from your set?
A lot of energy.

Are there any other acts on the Coloursfest line up that you wanna check out?
Paul Van Dyk, John O'Callaghan, John Askew.

How important do you think it is for the Scottish clubbing scene to host huge dance events like Coloursfest?
I think it's important for all countries to have bigger events as with the way the world is with regard to the economic situation it's always good to give people the opportunity to enjoy a top class festival without having to go abroad. It helps people put aside their daily struggles and allows them to let their hair down.

Whats the craziest thing you have ever seen in the crowd at one of your shows?
Thousands of Mexican's shouting 'Bryan, Bryan, Bryan Fucking Kearney' at Eurofest 2010 in Mexican City. Surreal.

What's your best memory of playing in Scotland?
Playing the final set at Inside Out last April. An honour and a privelage.

Which tracks are you predicting will be huge this summer?
Difficult to say considering the lifespan of tracks when they get released now. If I had to pick one it would be the Giuseppe Ottaviani Remix of Paul Van Dyk feat. Plumb - I Don't Deserve You.

What are you up to in the studio just now?
I have just recently finished a remix of Armin Van Buuren's track Serenity. I have recently two new originals called Awaken and High Anxiety, the latter has just been signed to Subculture. I have completed a collaboration with Indecent Noise called Uncommon World along with a remix for Chris Schweizer. I am currently working on a remix for Indecent Noise so I have been busy over the past couple of months.

Are there any artists out there you wish to collaborate with?
John O'Callaghan, Sean Tyas, Chris Schweizer.

Top 3 tracks just now?
Bryan Kearney - High Anxiety
Armin Van Buuren - Serenity (Bryan Kearney Remix)
John O'Callaghan - Earth2Self

What was your favourite gig of 2011?
Inside Out Closing Party at The Arches

Any Ibiza plans yet to reveal?
Nothing at the moment but hopefully will be appearing there at some stage. It's very difficult to make that first appearance at the big clubs. Politics.

Finally… If you could swap places with another DJ for the day, who would it be and why?
Mauro Picotto circa 2000.

You can see Bryan Kearney play Coloursfest at the Braehead Arena on Saturday 2nd June. For more information on Coloursfest and how to buy tickets CLICK HERE!