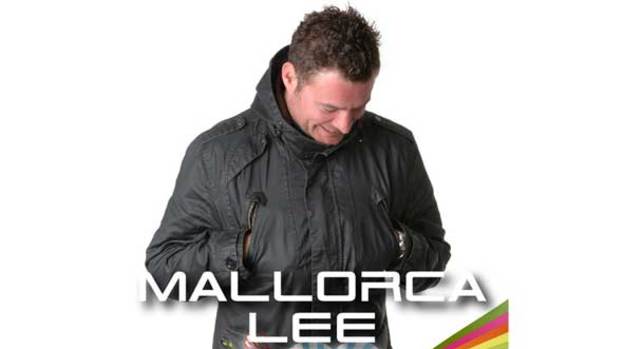 You are about to play the legendary Coloursfest in Glasgow.... How excited are you?
Hi STV Clubs! Well on a scale of 1 to 10 or 1 to a OH MY LORD! I just can't wait for this!

What can the Coloursfest crowd expect from your set?
A phatt DJ that's not ashamed to show the music moves me. I'm honored to be a part of people's weekends and amazed at being asked to play a festival I would have paid to attend as a raver. I hope we are blessed with glorious sunshine and we can all celebrate the official start of our Scottish summer together in the company of thousands of like minded individuals listening to the maddest sound track this little planet has! I'm so excited - can you tell? I'm also planning on asking Ross Ferguson to join me live on stage to sing some new tracks from my album - we've only done it once before, just a few months back and the response was amazing ! In my head the sun is shining, there is a gentle summer breeze, Ross is singing the chorus of TOGETHER to thousands at the GBX outdoor arena, it's a sea of hands, as the sun sets over the Clyde and I am a bubbling wreck behind the decks! PERFECT!

Are there any other acts on the Coloursfest line up that you wanna check out?
Defo Paul Oakenfold, PVD, Mark Knight, Laidback Luke, JOC, Indecent Noise & Bryan Kearney, Marcus Schulz, John Askew to name but a few, but I am sure I will miss some and discover loads more I never thought I'd get the chance to see / hear. Catch up some old and new faces that I've not had a few beers and a rave up with for ages.

How important do you think it is for the Scottish clubbing scene to host huge dance events like Coloursfest?
I think Coloursfest is THE dance festival that keeps Scotland on the map and helps us maintain our "party capital of the world" status that we are famous for. Not forgetting giving thousands of new clubbers the experience of a professional dance festival. I've been in the scene since the early rave days and watched Scotland's dance culture grow from illegal raves to Coloursfest and I am more excited about things now that I have ever been. I'm very protective of this festival because I have watched it grow from the very first one intil now, the 11th. It's the only dance Festival we have and we should all support it with every raving bone in our body!

Whats the craziest thing you have ever seen in the crowd at one of your shows?
Man I need to watch, what age group read this! (laughs) You name it, I have seen it and most likely the one doing it!

What's your best memory of playing in Scotland?
Closing Coloursfest main Arena in 2011 has been the highlight of my DJ'ing career so far, followed closely with closing for Tiesto when he took his massive Club Life Tour to Glasgow. And every time I play the main Arch at the Arches is special to me. There is also something magical about taking my music to small club, far out the way that no one expects you to play, because sometimes those gigs are off the scales, people really appreciate you coming to play in say Shetland, Orkney, Inverness, Banchory etc.

Which tracks are you predicting will be huge this summer?
I think Mark Sherry's latest track My Love will be massive. It's a clever re-work of Simple Mind's Belfast Child, that's been going down a bomb in my sets. Mark has also remixed my latest single Together feat. Ross Ferguson. I stalk him and you can find me going thru his bins when I'm not in the studio (laughs)

What are you up to in the studio just now?
I am flat out working on my second solo album, called Computer Games. I have been posting the recording process of various songs for the album on my Youtube channel so people can se the amount of work that goes into the recording. I am working with vocalists, guitarists and bass players on certain tracks. For the first time ever I can honestly say that I am producing an "album" and not just a collection of songs. There are track on Computer Games that are a personal snap shots of how I feel about certain people and situation in my life along with dance floor destroyers. You can check it out on my website www.mallorcalee.co.uk or download my brand new official APP for iphone for exclusive previews.

Are there any artists out there you wish to collaborate with?
I have worked in bands, groups and collaborations for about 15 years straight. Working alone on my tracks is the best thing that's happened to me. If I want to record some vocals that I have written I get in touch with Ross Ferguson who is the most talented singer I have EVER came across and he just gets what I am all about. If I want to get guitars down I ask Andy Haldane because he has worked with me for 20 odd years and gets the madness that comes out my mouth. If I need a remix I get in touch with friends and exciting new artists. But I don't have anyone in particular that I want to collaborate with. I can be a bit too much to work with on a daily basis, its something I just cant control, I am so passionate about what I do, the madness that goes on in my head sometimes just doesn't sound right when I am sitting next to someone. Its best I work alone, fight my Mac then take my noise to other people!

Top 3 tracks just now?
Mallorca Lee feat. Ross Ferguson - Together (Original Mix) [MLXL]
Mark Sherry - My Love [Night Vision]
Organ Donors - Style Over Substance [Audio Surgery]

What was your favourite gig of 2011?
Closing Coloursfest 2011, Main arena. The FULL arena going absolutely spanners. I got to play the main stage at my favourite festival on a stage I have looked up to for 10 years saying - "I wish I could play that stage" . Dream come true, bucket list gig for me that!

Any Ibiza plans yet to reveal?
My first gigs in Ibiza this season is June 21st at the Storm Boat Parties, then I will be back over on August 26th to play at the busiest night in Ibiza for Judge Jules at his legendary Judgement Sundays nights with Jules, Richard Durrand and Tristan D, Im super hyped and really nervous about this gig - the away MLXL Team are ready to go already ! lol I will also be playing a few more boat party's with some more dates to add as the season grows. I just hope I don't get lost and end up in St. Petersburg , like I did when I played Priveledge with Public Domain in 2003! (laughs) Ibiza is a special place to me and I guess and millions of other people. Its where I found what I thought I had lost in 1999!

Finally... If you could swap places with another DJ for the day, who would it be and why?
I don't or ever have wanted to swap places with anyone BUT what I would really like to do is play on the same bill as some my piers, especially at these massive dance festivals that's kicking off in America right now and show them how to rock a crowd to the core! (laughs)

See you at Coloursfest Mallorca!
Peace & Jam, Mallorca.

You can see Mallorca Lee play at Coloursfest on Saturday 2nd June at The Braehead Arena. For more information on Coloursfest and how to buy tickets CLICK HERE!