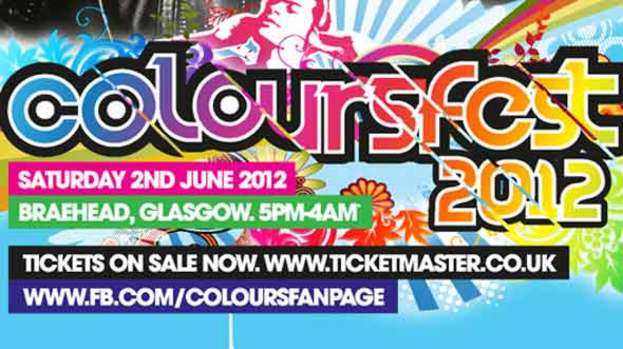 Scotland's longest running dance event, Coloursfest takes place on Saturday 2nd June at Braehead Arena & Waterfront. It's been held on the first Saturday in June every year since it's launch in 2002 and brings together 10,000 clubbers and clubland's hottest brands, with just a few superstar DJs thrown in! This year Coloursfest takes place during the Queen's Jubilee weekend, so all the more excuse to party! Plus they've added an extra hour of raving too with the event opening at 5PM this year!
The line up this year is without doubt the best Colours have ever brought us. Paul van Dyk will headline alongside Laidback Luke & Markus Schulz. PvD's new album 'Evolution' hit the shops in March 2012 to rave reviews, expect to hear all the hits from this album and more on June 2nd! This will be PvD's first Coloursfest appearance in 4 years; his last headline spot in 2008 was something that's still talked about to this day.
Dutch dynamo Laidback Luke is so supercharged and all over your body that it hurts. Blasting your bassbins with blockbuster beats, making your heads spin with his hybrid house styles, even cramping up your hands as you scroll down his discography! He sold out The Arches in November 2011 with 4 days to go and gave us one of the best nights of the year.
Markus Schulz will return to Scotland for his first show since 2010 as one of the headliners of Coloursfest 2012. Over the last 10 years Markus Schulz has fused the individual musical identities of progressive house & trance into his own creative and now inimitable hybrid sound. The legend that is Paul Oakenfold will appear as a very special guest as he makes his Coloursfest debut (he's never played Coloursfest before!); Oakenfold is on fire with his tracks just now and we're sure he'll rock Glasgow on June 2nd.
The big room house DJs are out in force as Mark Knight, Hardwell, Dimitri Vegas & Like Mike, Tommy Trash and La Fuente all plan on giving you house fans a night worthy of your attendance. If 140 BPM trance is your cup of tea then you'll be glad that John O'Callaghan, John Askew, Indecent Kearnage (Bryan Kearney vs Indecent Noise), Arctic Moon and Mark Sherry are on the bill. We're sure there will be more than a few 'taps aff' when those DJs take to the decks. Clyde 1 FM's GBXperience will host the outdoor stage this year with Darren Styles, Joe Inferno, George Bowie, Mallorca Lee, Obsession and Digital Devil are all gracing the decks. Don't forget to support your local DJs at Coloursfest 2012, these are the stars of the future when it comes to Scottish EDM.
Whether you like house, trance, tech-trance and everything in between, there will be something for you on the bill this year. Colours have pulled out the big guns for Coloursfest 2012! Tickets are £40 + BF and can be bought here.
STV and Colours are offering you the chance to win some very special Coloursfest 2012 goodies. Click here for more information.