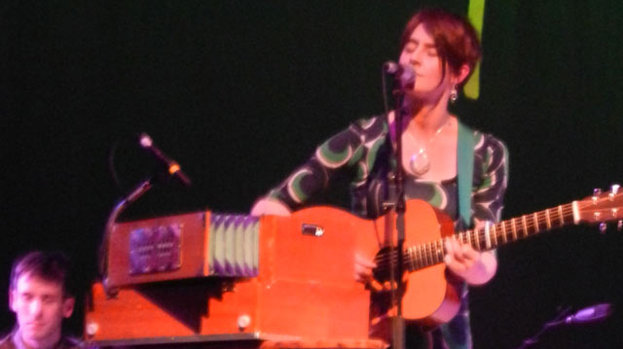 It's always a good sign when the performers in the audience outnumber those on stage. The capacity audience at the City Halls is studded with musicians young and older, drawn by one of Scotland's great talents, a songwriter who, now that Michael Marra is no longer with us, is in a class of her own. Like Marra, Karine Polwart has the poet's eye for detail and a way with a tune that unobtrusively burns it into your brain. Like him, she's self-effacing, unshowy and props an instrument on an ironing board; in her case, it's her beloved harmonium.
For Celtic Connections Polwart's regular collaborators Inge Thomson (accordion, vocals and percussion) and her brother Steven (guitar and vocals), are augmented by Iain Sandilands (percussion) and Olympic Swimmers' Graeme Smillie (keyboards). Even so, from time to timeThomson can be seen playing the accordion with one hand and the cymbals with the other.
Polwart's songs are beautifully constructed with multiple layers and textures of sound, but there's also lots of space. Her brother and Thomson both have great voices which are used as instruments to make wordless, breathy sounds, urgent, plaintive or percussive as needed. Sandilands' vibraphone and chimes add drama to the small apocalypse of Tears for Lot's Wife, based on a poem by Anna Akhmatova, and evoke the minarets of industry on Tinsel Show.
For the introduction to Strange News, inspired by the experience of hearing of the death of a younger cousin, Polwart speaks the lyric to Evergreen, featured on her eponymous EP with Lau and also inspired by his death. It's deeply felt but her delicately oblique touch never strays near mawkish sentiment.
Cover Your Eyes is aimed at the Trump International golf course in Menie and the audience hisses loudly when it's introduced. So subtle are the barbs that it's doubtful Trump himself would realise that it is in Polwart's terms a diatribe and a prophetic curse laid upon him. One hole of the golf course has already been devastated by the winter storms.
It's rarely easy for performers to get an audience to sing along. Polwart's gentle coaxing has the City Halls happily singing parts and harmonies on The Robin and again on The King of Birds. "There's a chorus for you, if you would care to sing it," she says quietly, and everyone does; an illustration of the irresistible power of good manners.
Earlier in the evening, Anais Mitchell and Jefferson Hamer also demonstrated that less is more. Two guitars, two voices, accompanied occasionally and sparingly by Lau's Aidan O' Rourke and Martin Green and singing Mitchell's arrangements of some Child Ballads, old songs collected in the nineteenth century but dating from at least two centuries earlier. Time hasn't dimmed them at all; songs like Sweet William. Tam Lyn and Sir Patrick Spens are still as compelling as soap operas, especially in the hands of such consummate musicians.
Reviewed by Jannie Macfie.
Related articles