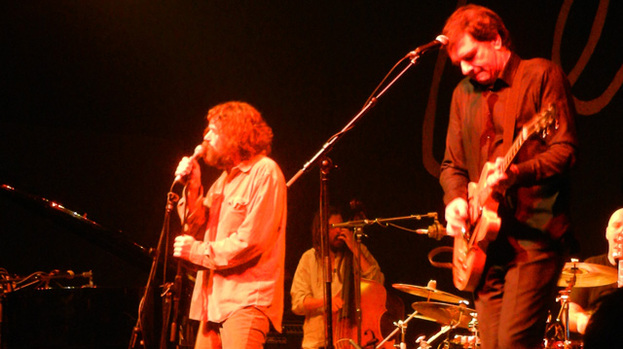 By Jennie Macfie
Shrouded in an overcoat most of us would hesitate to give to a charity shop and somehow managing to channel both the Doors' Jim Morrison and Nick Nolte in Down and Out in Beverly Hills, Liam O Maonlai is an arresting sight as he sits at the immaculately polished grand piano in the Old Fruitmarket.
His voice is even more arresting; during the Hothouse Flowers' marathon set, it evokes memories of an extraordinary range of singers. He can morph from a prettier, cheerier Van Morrison into an ululating flamenco singer in the back streets of Granada, and then remind you of James Brown, Bob Dylan – or Ian Gillan.
The music is a sampler of pretty well everything you ever heard, played with skill and passionate intensity. There's everything you like about the early Stones and U2 but without the bombast. There's a mesmerically funky version of See-Line Woman (which this reviewer had just heard given a far more traditional but no less uplifting treatment at the Concert Halls by the magnificent Heritage Blues Band).
There's a lot of gospel, there's a lot of soul, but there's also Allman Brothers' style rock, a hint of Malian griot, a sprinkle of jazzfunk, a dollop of reggae, and just when things might be settling into a groove, a dash of Latin-Americana.
Is there a set list, or do the (excellent) band have to be prepared for whatever he throws at them – something Van Morrison is reputed to do with dire consequences for those who miss their cues.
Certainly the other musicians (long-time collaborator Fiachna O Braonain, Dave Clark, Peter O'Toole and Martin Brunsden) keep a careful eye on O Maonlai at all times as he throws off his overcoat, throws his body around the stage apparently in the throes of demonic possession, and then incongruously pogos like it's still 1977.
All in all it's as much a religious revivalist meeting as a concert, though it generally smoulders rather than igniting into a blaze as one assumes it would have in Dublin. The Flowers' chart hit, Don't Go comes out at the end, as hits must, and you'd think it was over but then the encores begin. At the second encore, O Braonain gets out an Irish whistle and they go back to the roots with some jigs and reels.
The longsuffering City Halls staff sigh. It's already 40 minutes past the scheduled end at midnight, and they have an early morning start. Meanwhile this reviewer heads to the Festival Club for some more post-apocalyptic bluegrass from support act Southern Tenant Folk Union.