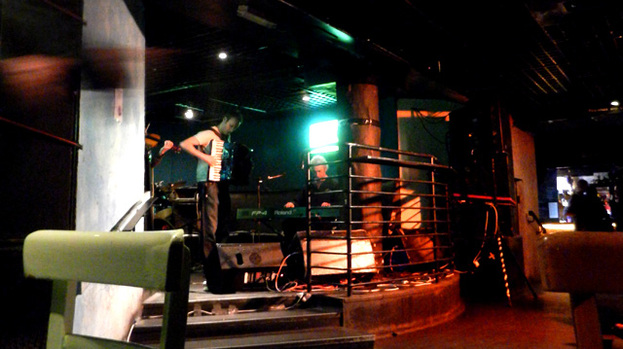 By Jennie Macfie
Once upon a time, the Celtic Connections Festival Club happened in hotels – latterly, in the peeling paint and fading glory of the old Central Hotel, with its long deserted corridors which could have doubled for the set of The Shining.
There was space and time enough to house a dozen different sessions in any nook and cranny that happened to be free as well as the main stage and the House of Song. It was perfect.
Bands who had performed had a chance to see the other bands whose gigs they'd missed and socialise with them while they wound down after the adrenaline rush of performance. Impromptu collaborations evolved spontaneously and sometimes turned into permanent performing relationships. Tentative ideas for bands were tried out; the Treacherous Orchestra was one which, despite or perhaps because of an initially disastrous outing, regrouped, rehearsed furiously, and went on to become the festival force it is today.
Since the restoration of the Central, the Festival Club has wandered around various city centre night clubs – Glasgow School of Art, Apollo, and this year Walkabout. It's better than nothing but it's never recaptured the legendary vibe of the Central Hotel. Instead of sitting around complaining, a group of younger musicians started gathering for sessions in the congenially scruffed-down-student-flat environment of the Flying Duck.
Piper Calum Macrimmon (Breabach) and mandolin player Laura-Beth Salter (The Shee) went a step further and started 'Folkytown' nights which recreates some of the chaotic ambience of the Central Hotel and fills the gaps that the Festival Club leaves in the first half of the week.
It's the start of a Celtic Connections Fringe, as bands who are playing under the official umbrella are joined by bands who aren't – like Babelfish. Babelfish are Session A9 fiddler Adam Sutherland, ex-Blazin Fiddles pianist Andy Thorburn, Treacherous Orchestra's John Somerville on accordion, ex-Peatbog Faerie drum powerhouse Iain Copeland and rap poet Jock Urquhart.
Poetry and music – sounds a bit prog-rock, doesn't it? But it's miles away from twee or fey; it packs a considerable political punch, something that's less unexpected when you learn Urquhart is the son of ex-SNP MSP Jean.
Musically Babelfish swim in that rich, increasingly crowded ocean where indie, jazz, traditional, world and classical meet. There are nods to Booker T and the MG s in Aird Onions and obeisance to Hendrix in Little Wing. There's a reggae dub feel here and a whirling Sufi dervish tinge there. The whole thing is tight and loose, as the best music is, ending in a storming finish which stops on a sixpence. Cue cheers and riotous applause, before DJ Angus Binnie takes the evening off into a dance marathon. Rarely was a fiver better spent.