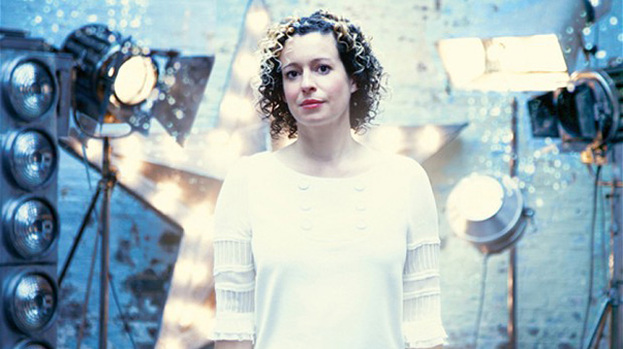 By Jennie Macfie
One of the reasons singer/songwriter Kate Rusby's career has lasted so long is her rare gift for making an audience of thousands feel as though they're sitting comfortably round her kitchen table having a chat and a cuppa. (There really are thousands in the Main Hall tonight, it's standing room only in the balconies).
During the evening, Rusby chats about her family, including her children with producer/guitarist husband Damien O'Kane, Daisy and Phoebe, her ceilidh band parents, Stan the uncle who inspired Bitter Boy. We also learn about the longsuffering family dog, Doris the hoover.
It's the way she tells them. Rusby's laconic Barnsley humour is an endearing mix of Jane Horrocks' Bubbles in Absolutely Fabulous and Barnsley's other famous offspring, Michael Parkinson.
"Oooh!", she says, frequently surprised by her own set- list. "Now it's I Courted a Sailor. Except I didn't, being from Barnsley. Nearest we got to the sea was the fish 'n'chip shop." There is much banter with Jim Causley who joins her on stage for this and several other songs but whose voice, one of the finest in English folk, is alas almost inaudible in the live mix.
Her band for the tour is Aaron Jones on bouzouki, well known to Scottish audiences from his regular job with Old Blind Dogs, Julian Sutton on accordion (knitted, according to Rusby, by himself), guitarist Ed Boyd, and O'Kane, augmented from time to time by a string quartet.
The programme advertised "Special Guests" and they are indeed special. Dick Gaughan (like Rusby, getting over a cold) lends his gravelled warmth to old favourites like The Jolly Ploughboys. She's also joined by Michael McGoldrick, Eddi Reader, Sarah Jarosz from Texas, guitar maestro John Doyle, John Joe Kelly, Duncan Lyall and in the second half, Donald Shaw, taking a quick break from running Celtic Connections.
It's what you might call, heedless of cliché, a star-studded night. John Doyle's solo guitar intro to The Old Man is worth the price of admission alone.
Rusby's voice is as true as ever, just deeper and huskier than usual because of her cold but her only concession to illness is frequent sips from a mug of tea. The show must go on (Caravan Palace please note). Heedless of infection, hugs are exchanged at frequent intervals with all the guests, so if there's a rash of cancelled concerts in February, Rusby's to blame.
In the second half, Rusby leaves the stage to Sarah and the Boys for a rocking, roaring, rousing set of tunes which includes The Mystery Inch, The Banks of Newfoundland, and Gina Le Faux's The Penistone Shroud and which warms the audience up for the home straight. Causley joins her again for "The Good Man", followed by a new version of "Awkward Annie" and an intensely moving ensemble encore of "The Wandering Soul".