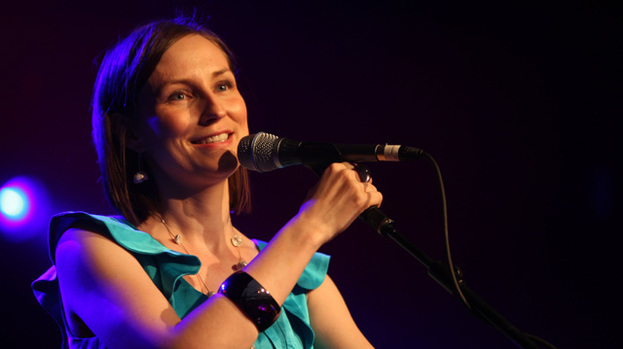 The mention of Julie Fowlis' name is enough to ensure a sizeable audience for any concert so it was not surprising to see the City Halls packed full for this celebration of Skye's Gaelic college.
Some surprises were in store, nonetheless, for though many of the evening's birthday treats were advertised in the programme – Alasdair Fraser & Natalie Haas, Daimh, Fergie Macdonald among them – many were not.
The first notes of the evening were played by a native of that well-known Gaelic enclave, California – Dr Decker Forrest, director of the Gaelic Music course at Sabhal Mor Ostaig, and owner of one of the most sweetly tuned – and played – set of pipes it's ever been this reviewers pleasure to hear.
A hard act to follow but Allan Macdonald of Glenuig opened the second half with a set which blazed even brighter, tightly fingered notes and gracenotes cascading off the stage in breathtaking style, and Angus Nicholson's small pipe accompaniment of Margaret Stewart gloriously silvery sung pibroch tune was not too dusty either.
Julie Fowlis is fast becoming the international face of Gaeldom, but is also a former graduate and postgraduate of the college; her rendition of Bothan Àirigh am Bràigh Raithneach was simple and simply beautiful. Other singers would do well to study her use of the microphone, as a musician in the audience said afterwards.
Other vocal treats included songs from James Graham (recently engaged to co-presenter Kirsteen MacDonald, as her parner in crime Mary Anne Kennedy informed us), Alasdair Codona, and Christine Primrose, who started working in Sabhal Mor Ostaig in the office, until someone heard her teaching the students some songs. (The rest, as they say, is history).
The House Band was not short of formidable names in their own right – musical director Allan Henderson, his sister Ingrid (ravishing in dark pink), Iain Macdonald of Glenuig, Alasdair White, and Angus Nicholson among them – but they effaced themselves, as good accompanists must, to provide a solid foundation - though grins of encouragement and delight were, rightly, not suppressed.
To return to the advertised treats, Alasdair Fraser and Natalie Haas are never less than impressive. Maybe it was the evening's relaxed ceilidh atmosphere – or maybe it was the excellent acoustics – but their performance in the City Halls rocked; there's no other word for it. Daimh also stepped up to the mark, and Fergie MacDonald's brief moment in the spotlight showed why he's one of the best-loved musicians in the Highlands.
The evening was closed by the flamboyantly white-suited Michael O'Súilleabháin conducting the orchestra of the Royal Conservatoire of Scotland with some superb soloing including Kenneth Edge on soprano sax.
More About Celtic Connections 2013