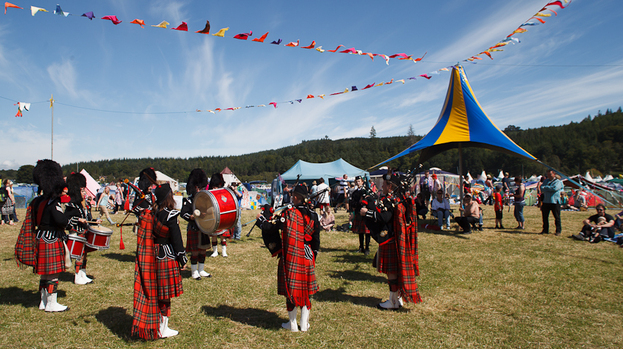 As festival season begins to draw to a close, Beauly certainly treated us well at the weekend, with unbelievably good weather, the finest of food, and a super-sized dose of entertainment from all genres- all tied together in a tartan bow.
The family favourite festival didn't disappoint at any level, with so much to offer, but perhaps you were basking so vividly in the sun, that you missed your favourite act? Or for those of you who weren't there, perhaps you need a little gentle persuasion to grab your ticket quick for the next?
This is all of our reviews from the weekend, and we were dipped in factor 50 sun screen, so the positivity comes from the festival alone, and is nothing to do with the delerium of heat stroke.
Belladrum heats up to a start that makes sparks- 'Make Sparks, set the bar with their glorious melodies and swaggering synchronisation. With pop hooks emblazoning a rock n' roll delivery, the trio jolted the crowd into action with their polished performance.'
Vintage Trouble and Nina Nesbitt keep Belladrum bouncing- 'Bringing sounds of the past to the present, brimming with bottled showmanship, Vintage Trouble crafted a time capsule to get your groove on like your granny used to. No wonder everyone's needing joint replacements these days, as the groove just keeps on going.'
Slow Club delight at Belladrum- 'Slow Club are a delight on record, and an even greater delight live, where they can exude their honest charm in the delivery of their nurturing records.'
We Are Scientists take Belladrum After Hours - 'As expected, it's hits, such as the rapid stagger of Nobody Move, Nobody Get Hurt, that really get the crowd involved. Played countless times, and yet still delivered with rapturous venom to a bouncing audience, their set as the sun started to go down, provided the perfect soundtrack for an elated but weary crowd.'
The Wombats and Buzzcocks bring Belladrum to a Friday night finish line- 'Sending fingers pointing in the air, the stage wasn't the only place reliving the anarchy of the late seventies. Easily forming the livelier crowd of the two Belladrum big fish, loose hi-hats and scratchy guitar scuzz obliterated any chance at following a vocal, but the set was energetic and raw, exactly how one would want their punk served I imagine.'
Ciao Bella strikes a pose at Belladrum- 'Taking all things fashion in its stride, Ciao Bella brought some Scottish style to a big top, in a two day extravaganza of shaking it on the catwalk just like Right Said Fred.'
Belladrum: Karima Francis and Marc O'Reilly keep it acoustic- With folk and blues influences, the Irish singer songwriter stands out from the genre, easily the feral twin of Ben Howard, raised by wolves, and with all the dare in his approach to songwriting and delivery for the pair of them.'
Lanterns on The Lake and Dog Is Dead keep Belladrum fresh- 'Also near the start of their career, the sharp haircuts of Dog Is Dead are easily deliverable to a trendy young crowd, who formed ready for rowdy participation. Not particularly visiting new territory, but doing what they do very well, the super-polite four piece from Nottingham have already featured on Skins and toss their cool points around the stage alongside tight harmonies.'
Frightened Rabbit prove the true tartan heart of belladrum- 'With the band steering the set even further forlorn, the sentimental My Backwards Walk was a cathartic sing along for the crowd, the song crescendoing from a soothing still to several thousand people bounding into the air and singing about being knee deep in it- it being a certain brown substance, and we're not referencing the mud of other Scottish festivals here.'
Travis Sing blissful Belladrum to a close- 'Pleasant but predictable, Travis entertained Belladrum in a heart-warming finale that brought the crowd Closer together in sentiment.'
People who read this story also read