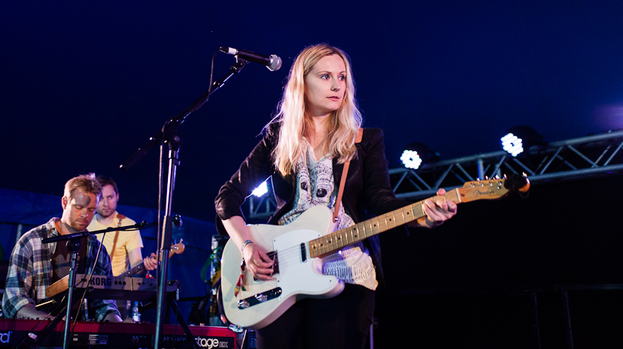 The eclectic soundscape of Newcastle Upon Tyne's Lanterns On The Lake had homely charm and an Arcade Firesque community spirit, fitting for the stage at big hearted Bella.
Following the whimsical front woman trend, sweeping violin, bowed guitars, and soaring builds, set this five-piece aside from the bulk; though they might not have been as appreciated quite as they deserved by the teetering on tipsy crowd.
Using extremes of dynamic in sculpting their drama, the silences and pauses of their set played as big a part as the jovial, clap-along instrumentals that ricochet around the tent .
Atmospheric, and with sparse vocals that were delivered sugar mouse sweet to ice the sound in modest decoration, the still of the band worked well as the sun faded, and the grey lull of the late afternoon was enhanced by their audio beauty.
Front woman, Hazel Wilde, wasn't confident in her delivery between tracks, but with her tiny speaking voice came an endearing element, which favoured their sound and gained the support of the majority of the tent behind them.
Also near the start of their career, the sharp haircuts of Dog Is Dead are easily deliverable to a trendy young crowd, who formed ready for rowdy participation. Not particularly visiting new territory, but doing what they do very well, the super-polite four piece from Nottingham have already featured on Skins and toss their cool points around the stage alongside tight harmonies.
With a folk undercurrent, but with more chartable hooks, pop structures and tight bursts in sound, their on stage animation often saw them pulling shapes bigger than the sounds they were making, though the young crowd love it.
Latest single, Glockenspiel Song, brings saxophone back Zutons style, with Mumford & Sons vocals and a confident swagger. With all the elements to make it with the in-crowd, Dog Is Dead look set to be more than a Belladrum secret by this time next year.
People who read this story also read