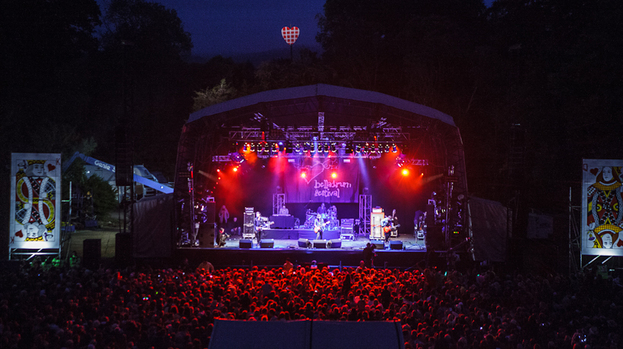 Following the weekend formula with their festival set, Saturday night headliners, Travis, played to please and unite, the big headline act Belladrum had on offer to close their weekend of bliss.
Largely the choice for a family crowd, with the promise of fireworks after, the Scottish superstars of the late 90s onwards had the main Garden Stage at its most full of the weekend. Out in the open air with communal Scottish spirit, fans were fearless of the threatening downpour at any moment, especially since Travis were pretty much guaranteed to sing THAT song, or maybe they wouldn't as that could be tempting fate too much?
Opening with Writing To Reach You, the track that marked their introduction to many, as the first track in breakthrough album The Man Who, their inoffensive indie had the calming effect of instant nostalgia, delivered by the Glasgow band with excess enthusiasm usually only seen in newer bands.
They say with age comes experience, and with twenty-two years behind them, Fran Healy and the boys, well, okay, men, more than knew what they were doing with the crowd. Tricking the Belladrum brood into participation, until they had the entire field acting as a human metronome, Travis forced fatigued fans into full sway for newer release Love Will Come Through.
Like many artists over the weekend, Healy mentioned just how delighted they were to play the festival, speaking about the spirit of Belladrum and how for them, it holds something special in its unity and warmth. Said time and time again across the weekend, though from each mention, a sincerity in the words,Travis did seem genuinely ecstatic to be crowning the festival, which seems to make its mark on performers and fans alike.
Side from The Invisible Band, marked the progression of the band's career, and was an obvious crowd favourite. For many parents here at Bella this weekend, who grew up with the band, the now eleven-year- old track was sung at lung shuddering volume, with their kids on their shoulders, replacing the angst of their teenage years.
Pleasant but predictable, Travis entertained Belladrum in a heart-warming finale that brought the crowd Closer together in sentiment.
Still remaining dry, (whoever would have thought it?), Travis closed with Why Does It Always Rain On Me, turning the last chorus into a mass pogo, much more extreme than anything seen at Buzzcocks the previous night. Perfectly timing the last bounce with the first firework, there was something quite perfect about the weekend all in all, as Belladrum more than deserved to be crowned Queen of Tartan Hearts.

People who read this story also read