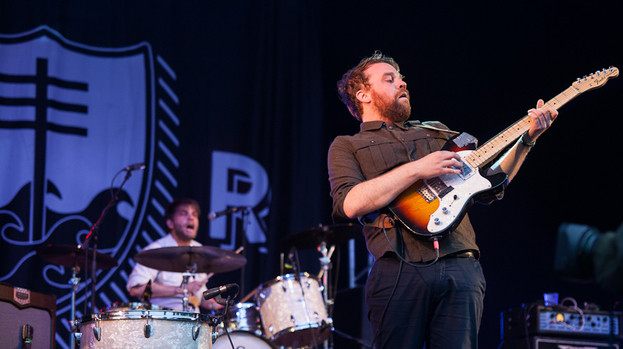 As the clouds drew in and hid the sun, This Modern Leper was the self-loathing ballad that kicked off the set for Belladrum heroes Frightened Rabbit. Warming up the stage for 90's indie superstars Travis, the Saturday night crowd didn't need to wait for Fran Healy to tell them to Sing.
With pints in the air for some, and kids in the air for others, Belladrum flocked to the main Garden Stage in numbers, for this, the band on everyone's lips over the weekend. Packing in tight to maximise the party in the walled garden, it was bounce or be left behind by their ecstatic audience.
With sing along in full pelt from the opening lyric, this was pretty much the way the gig remained from start to finish, as the band kept their succinct set to festival favourites, a guaranteed hit.
Uplifting in their melodic misery, their rapid-fire set moved onto Old Old Fashioned, and again delighted fans with their anthems led in serene Scot's tongue.
With lead singer and main songwriter, Scott Hutchinson, summing up Belladrum as their favourite Scottish festival, which Hutchinson stated as a true representation of our nation, the boutique festival of Beauly really does win over a whole lot of hearts and paint them tartan. Thankfully it managed not to enrich Frabbit with too much positivity, afterall it's their needy broken heart that sorrowfully sculpts their beauty.
The Twist reminded everyone of the falling temperatures after two days of being totally tropical in the Highlands, though luckily, in this set, 'human heat' was in abundance with the volume of bodies bouncing against each other.
With the band steering the set even further forlorn, the sentimental My Backwards Walk was a cathartic sing along for the crowd, the song crescendoing from a soothing still to several thousand people bounding into the air and singing about being knee deep in it- it being a certain brown substance, and we're not referencing the mud of other Scottish festivals here.
With their charm growing from the wise lyrics of Hutchinson, and working its way around the rest of the band to unite in Caledonian comfort, Keep Yourself Warm saw a few drops of rain threaten downpour from the sky, though it remained only a threat, potentially just forced to fall to the ground from the thick cloud, as a coincidence of the bludgeoning sing song volume on this obvious fan favourite.
Leaving fans singing the tartan-tongued melody of The Loneliness and the Scream well after they had cleared the stage, Frightened Rabbit didn't give much of a hint to their upcoming fourth album, but they played an uplifting set to sing your sorrows to in the oxymoron of their feel-good depression.
People who read this story also read