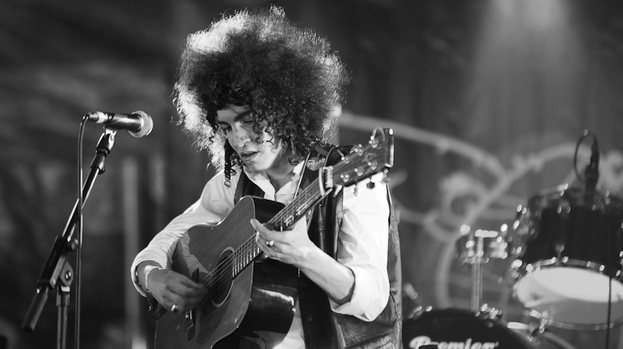 Holding the attention of the Hothouse Stage, the captivating Karima Francis is gaining in popularity, and today at Belladrum, it was time to see what the fuss that preceded her was referring to.
With her vocal leaking from the tent, it could easily have been mistaken as an acoustic session by Canada's Alanis Morrisette. In appearance, the rising songwriter resembled a female Hendrix, with overspilling afro, headband and leather waistcoat combination.
Unexpectedly from Blackpool, her broad accent became apparent when speaking between songs, something she wasn't shy about, though her performance had an element which painted her as incredibly more exotic.
Accompanied simply by an additional acoustic guitar and bass, the stripped-back set allowed the ornamental quality in Francis' vocal to be retained to the max.
Ending on the emotional Wherever I Go, Karima Francis stands out from the crowd, though still retains popular structures and lyrics for mass consumption.
Working his acoustic guitar to its full potential in both rhythm and tone, the intricate guitar work of Marc O'Reilly impressed, equally skilled in dexterity there, and in the working of the natural wisdom of his smooth vocal.
With folk and blues influences, the Irish singer songwriter stands out from the genre, easily the feral twin of Ben Howard, raised by wolves, and with all the dare in his approach to songwriting and delivery for the pair of them.
Unassuming and entirely at ease before of the scattered crowd, track Foo was a set highlight that threw his heart full out on the stage, (in the manliest possible fashion), with similar honesty in his writing as that seen in Keaton Henson- though O'Reilly is entirely absent of any of Henson's self pity.
Claiming to have brought the good weather with him, the cheeky charmer played an enthralling set and releases his debut album, My Friend Marx on Monday, as well as playing in Glasgow's King Tuts tomorrow (Sunday) evening.
People who read this story also read