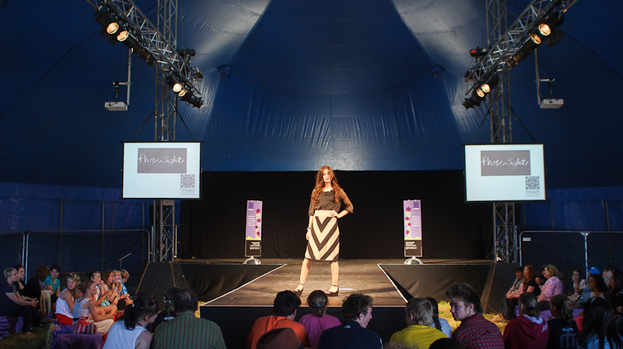 Taking all things fashion in its stride, Ciao Bella brought some Scottish style to a big top, in a two day extravaganza of shaking it on the catwalk just like Right Said Fred.
Sponsored by Eastgate Shopping Centre in Inverness, the runway delight featured fashion from local designers. Designs by Judy R Clark very appropriately featured boho festival chic, with the new faces of Colours modelling agency strutting their stuff on the runway. Maggie Blyth showed designs rich in floaty fabrics to make glampers from campers, with a collection from classic Scottish brand, Harris Tweed, stomping a modern element to the traditional celtic brand.
Elaborate Hats By Mimi brought the collections to the close, with a vivid array of headwear in multi-colours and textures, ready to take to weddings, Royal Ascot and the stage, in designs GaGa would be proud to sport.
The two day extravaganza closed with this year's Face Of Bella contest, where ten youngsters competed for a year long contract with Colours Agency. With a three person judging panel, featuring Mary McGowne from Vine PR, Jackie Cuddy from Eastgate Shopping centre, and Mark from Colours model management, it was informed the judges were in search of personality as much as good looks. After their chance to shine in a brief interview with our very own Laura Boyd, the ten hopefuls took their very first steps on the runway in an attempt to impress.
With one female winner, and one male winner, the tent was packed with supporters for all the beautiful wannabes. With a tense atmosphere, and some interesting walks amongst some naturals, the winners were announced as the tall, tattooed, Ross Diak, and dainty festival doll Louise Freer.
Winning a contract with Colours for the next year, the chance to make their debut at The Scottish Style Awards, a wardrobe makeover, and tickets to Belladrum 2013, it looks like the pair with the flair have a very exciting year ahead of them.