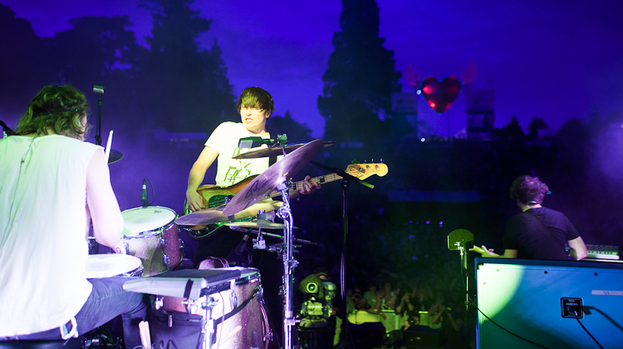 Keeping the younger demographic of Belladrum entertained, The Wombats crowded The Garden Stage with Our Perfect Disease, a valid description of themselves for infecting the audience with their offbeat stutter.
Sending them jogging on the spot to Kill The Director, this was the final cue for anyone older than twenty-two near the front to get to the back. Churning out track after track of hi-hat driven frenzy, sending the crowd into full motion, the Liverpool lads shook them until they were weary, and ready to be delivered back to their tent to recharge for tomorrow.
Following the crowd in some shape-pulling of their own, on this, their first headline slot at a Scottish festival, it didn't seem that the crowning glory was all too easy for the band, who seemed to be having technical difficulties. They also struggled to keep the crowd fully animated for the entirety of their set, drifting at any opportunity to fall flat between tracks.
Particularly quiet towards the back of the natural amphitheatre, though I suspect this was from fatigue rather than lack of enthusiasm, the family audience faded with the sun. The three-piece then appeared a bit under pressure, in the picturesque setting, with decorative light up hearts spanning the perimeter of the crowd and sparkling in thistle shades.
Delving into their catchiest back catalogue, Techno Fan recharged the crowd all over again, and upon the the offer of shutting up and moving with them, I decided I'd do just that and pay punk rock legends, Buzzcocks a visit at their very own headline show.
Keeping to the other extreme of the festival demographic, Buzzcocks had the Hothouse Stage, full, bouncing, and spilling over into the surrounding field.
Noisy, as you'd expect and still ruling with rapid-fire rebellion, regardless of being a lot more settled down now, with the average age of the band roaming around near late fifties, these old dogs could certainly teach The Wombats something.
Sending fingers pointing in the air, the stage wasn't the only place reliving the anarchy of the late seventies. Easily forming the livelier crowd of the two Belladrum big fish, loose hi-hats and scratchy guitar scuzz obliterated any chance at following a vocal, but the set was energetic and raw, exactly how one would want their punk served I imagine.
Nearing the end of their set, Ever Fallen In Love (With Someone You Shouldn't've), defibrillated the crowd upright, getting them hammering on the same beat, and took the band, and their fans, to a similarly satisfying end.
Keeping everyone happy, day one of Belladrum was an absolute beaut, and we're counting on day two to deliver. Here's hoping the Tartan Heart lineup proves more popular today, than I imagine after-sun is in Beauly this morning.