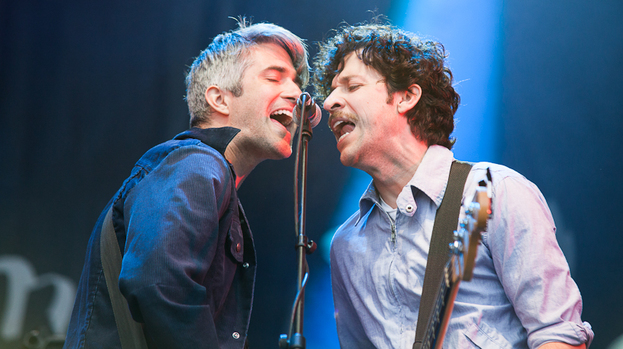 Keeping it Californian, as the summer evening dissolved into a haze, the long standing geek chic of We Are Scientists, led Belladrum into their night with a nostalgic slice of jaunty indie.
Having made less of an impact in recent years, that didn't stop the tireless trio from having the full support of Belladrum's main Garden Stage. Proving very popular with the mixed crowd, Rules Don't Stop Me, from their 2010 release, Barbara, had their youngest fans fully involved, whilst older hits had the twenty somethings in full-voice.
Led by the renowned, silver-haired Keith Murray, the festival favourites were laid back on the stage, and knew just how to guide the crowd through their well-crafted set, having perfected their technique on their seemingly constant, and long-standing touring schedule.
As expected, it's hits, such as the rapid stagger of Nobody Move, Nobody Get Hurt, that really get the crowd involved. Played countless times, and yet still delivered with rapturous venom to a bouncing audience, their set as the sun started to go down, provided the perfect soundtrack for an elated but weary crowd.
Less well-known songs were more passive on the festival crowd, but by this stage, let's face it, we could all do with catching a breath. Regardless, We Are Scientists continued to entertain, in between catalysing the release of any remaining energy reserves in the crowd, for the likes of The Great Escape, where the scurry of the hi-hat got tired toes busy at The Tartan Heart Festival.
Staying energetic and enthusiastic , the Nice Guys of Belladrum claimed the final track in their set, After Hours, was incidentally written at the Inverness-shire festival four years ago. A tale about staying up late and taking the party to the light of the morning, the band took the Friday night festival crowd from light to dark, leaving it up to them to see if they could make it full circle.
We Are Scientists provided inoffensive good times and nostalgia for Belladrum, hopefully cheering up anyone in the crowd who weren't so enthusiastic, about the secret special guests being Glasgow's Kassidy.

People who read this story also read